A New Normal
By: Reagan Light
On an average day, Gabe wakes up with a little bit of stomach pain and waiting for the pain to pass before get going on the day. If his pain passes he tries to eat which is a very difficult thing to do when he doesn't feel good but still needs to make sure he gets something. After this, he enjoys taking showers in the morning, and if he is feeling up to it he enjoys seeing his friends, which is one of the things that make Gabe feel better.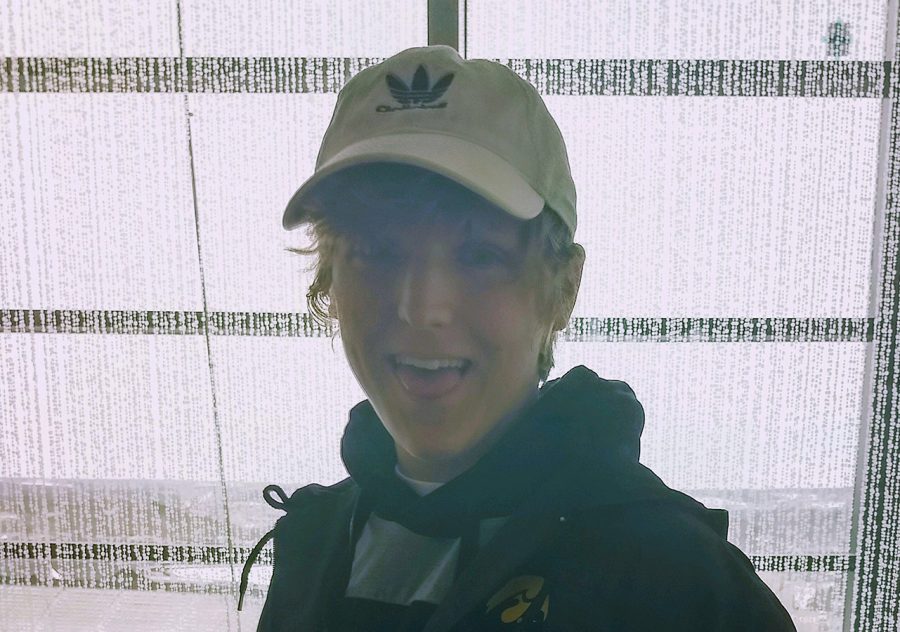 This is a typical day for Gabe Goslin, who was diagnosed with Hodgkin's Classic Lymphoma stage 3 in February.
Goslin wasn't feeling well and initially thought he had pneumonia. His mom was going to take him to a Mercy walk-in center but then he broke into a super itchy rash all over his legs and hands. "It was terrible, it just popped out of nowhere," said Goslin. So they went straight to Mercy Hospital.
From there he received medicine for his rash and then explained his symptoms to the doctor. Goslin had to do a scan but it wasn't clear so he took a chest CT scan and from that, it was clear what was wrong. "The doctor came back in the room and just the look on his face told me that stuff was about to hit the fan," said Goslin. The doctor said there was a mass in his chest that was most likely cancerous because of the size which was five cm by five cm; the average size of a lime. The tumor was touching his throat and therefore severely affecting his ability to breath.
From there Gabe went to the University of Iowa where he continues to receive his care.
To say Goslin was shocked to find out he has cancer is an understatement. At first, he was very scared and didn't want to lose his hair or get a port put into his chest. Goslin was trying to fathom how he could have this but he put a fake smile on to try and somewhat help everyone else calm down and try not to worry them.
Goslin receives his treatment through a port that was surgically placed in his chest. They have to access his port with a big IV and regularly it would hurt him really badly but he then got this cream that he puts on an hour before that numbs the area. After chemo, he has felt differently. Sometimes he feels perfectly fine but he's also had multiple times where his nights are filled with throwing up and stomach aches. He just tries to appreciate the nights that he doesn't feel like this.
Goslin's diagnosis has changed not only his life but his family's life completely. Before hospital visits and chemo, the Goslins' life was filled with on-the-go between him and his brother. Playing many sports, spending lots of time with his friends and each other, and lot's of practical jokes and laughter filled their life according to his mother, Mary Goslin. Now, their schedules revolve around different types of doctors, appointments, and monitoring Gabe's symptoms.
Throughout this process, Goslin has had a lot of changes but the one thing that hasn't changed is his personality. If you know him, you would know that he is a completely goofy boy. One of his friends, Kaylia Wirfs, claims that his personality hasn't changed a bit. "If in anyway he has changed he is just nicer, he is living life for the now or to the fullest," said Wirfs.
Goslin has had tremendous support from his family but also from the community as well. "We have had so much support from the community," he said. "I'm so freaking lucky to be living somewhere that cares about individuals so much. I'm grateful. A lot of people have reached out to me and I love talking to people and playing iMessage games because it helps pass the time," Goslin said. The community has supported his family by starting fundraisers, bringing their family meals, fixing his mother's car, and especially the kindness and prayers.
There are many ways for anyone to help and support this family through this difficult process. In particular, there is an upcoming soccer game coming up against Solon. Both of Mount Vernon's, boys and girls soccer teams will be taking on Solon, to support Gabe. All the proceeds made at the game will go to the Goslin family. You can make a purchase on, https://kickinforacure2019.itemorder.com/sale and order a T-Shirt to support this family. All purchases will be accepted until, April 21st.