Multi-Sport Athlete Supports Mustangs while Healing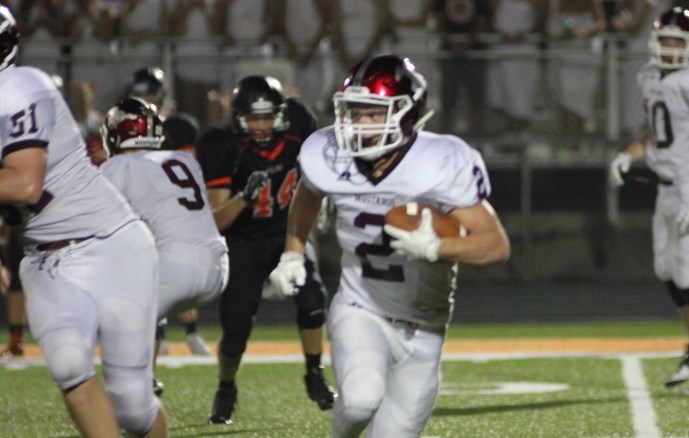 By Jake Morgan
The ball flies through the air. Mickey catches it with a thud and begins to sprint down the field. His opponents charge towards him. He puts his shoulder down and slams through one defender and spins around the next. Finally he is brought down around the 40 yard line.
Hines, a senior, loves football and it has been his passion ever since he started flag football in the third grade. He recalled his favorite game and by far his most memorable sporting experience was during his junior year. It was homecoming and they were playing Monticello. The Mustangs were down in the last moment of the game and Monticello was kicking off. They kicked the ball and Mickey caught it, and started running down the field. Running through several tackles and avoiding several others Mickey managed to score a touchdown thus winning perhaps one of the biggest games of the year.
Along with playing football he also has a love for track. In the seventh grade he started running mid distances including 200, 400, and 800 meter runs. He was up there with the best consistently trying his hardest and beating his personal records. His love for the sport is only rivaled by his love for his team. One of favorite moments from track was when his team went to the Drake Relays during his junior year.
In fourth grade Mickey discovered the sport of basketball. While he originally wasn't on the team he was offered to join the practice. He enjoyed the practice and was asked to join the team because they didn't have enough players. Through the years he kept playing and gradually got better at the sport. He played point guard and learned to hone hi ball handling skills. His favorite moment from his basketball career would have to be his sophomore year of high school where he played on the junior varsity team.
"It was a lot of fun, the games were fun and the team mates were nice. I had a blast," Mickey said when asked about the year. It was this year that he also scored 26 points in the game against Dewitt.
The senior football season for Mickey started off well with 172 rushing yards and two touchdowns, a promising start. It was during the third game against Northeast Goose Lake that things changed for the worst. Four minutes into the first quarter Mickey ran down the sidelines, following his route. The ball was thrown and Mickey leaped into the air, ready to receive the pass. As he came down he landed wrong and ended up having to sit out the rest of the game.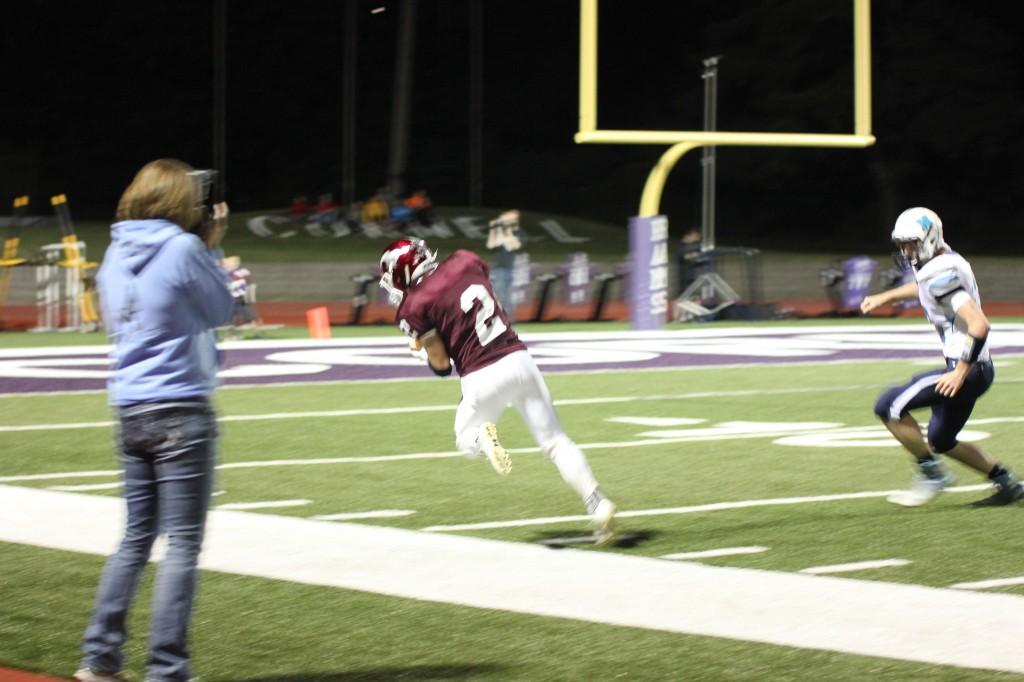 The doctors decided at first glance it was an MCL tear and wanted to do an MRI to check if it was anything worse. The results of the scan were worse than Mickey could have imagined. Turns out it was actually an ACL tear which would leave him unable to finish out the current season and destroy any potential chances of college scouts being able to see him action. After 18 days Mickey was finally admitted into surgery. There are multiple ways for the surgeons to reconstruct Mickey's ACL. In his case they chose a fairly common option, a one and a half hour procedure takes tissue from the Patellar tendon and uses it form a new, makeshift ACL. The procedure was completed without any problems but now Mickey must go through rehab to strengthen the new, weakened ligament. Rehab consists of going uptown to  Iowa Physical Therapy where he does one hour sessions three days a week. During these sessions he tries to work on getting the knee to bend being able to walk. This therapy will take four to six months to be fully completed.
While he is missing Mount Vernon's best year in football in recent memory, he is hopeful that he can recover in time for track season and to be able to participate. While Mickey was hoping to be able to get a scholarship football, in fact he already had a couple offers from some local colleges, he doesn't think he will play football in college. Despite the harrowing journey in front of him, Mickey stands tall and is confident and hopeful for his track season.