Radioactive trinkets and cameras with hidden secrets. An antique store contains many unknown treasures and pieces of history that are waiting to be found. Simon Gillespie, a junior in high school, is ready to collect them.
Gillespie's main targets when entering an antique shop are vintage cameras and uranium glass. His favorite stores to search in are Back Porch Pickers, where he's found three cameras, and Polly Ann's Antiques, where there's a shelf dedicated to Depression Glass.
Depression Glass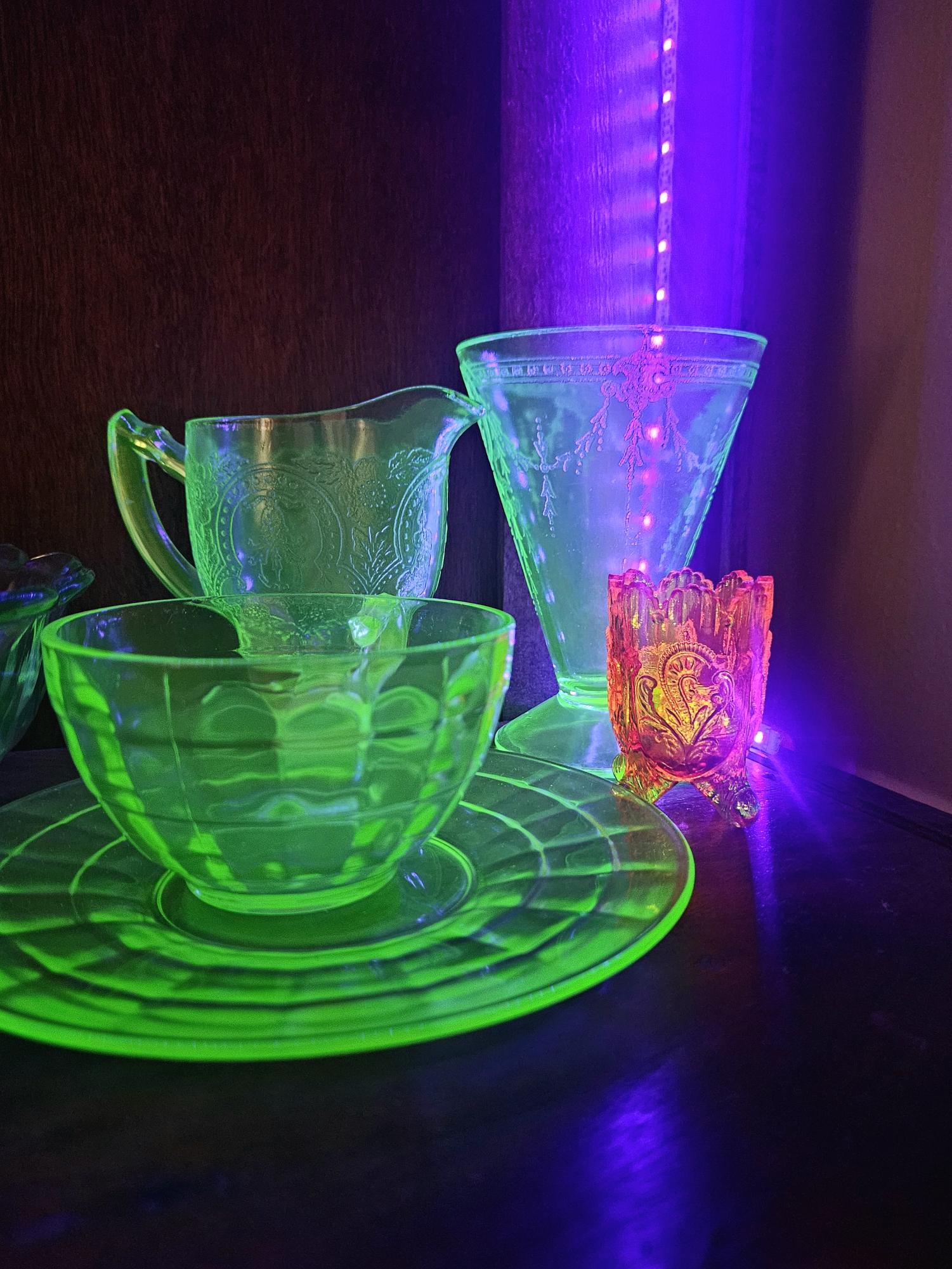 Depression Glass
Throughout the years of the Great Depression, 1929-1939, typically clear or translucent glass was given away or sold very cheap. This was done to distribute dishware to the people, who needed it but could not afford any. Many food manufacturers, notably the Quaker Oats Company, put a piece in boxes of food as a financial incentive to purchase their product.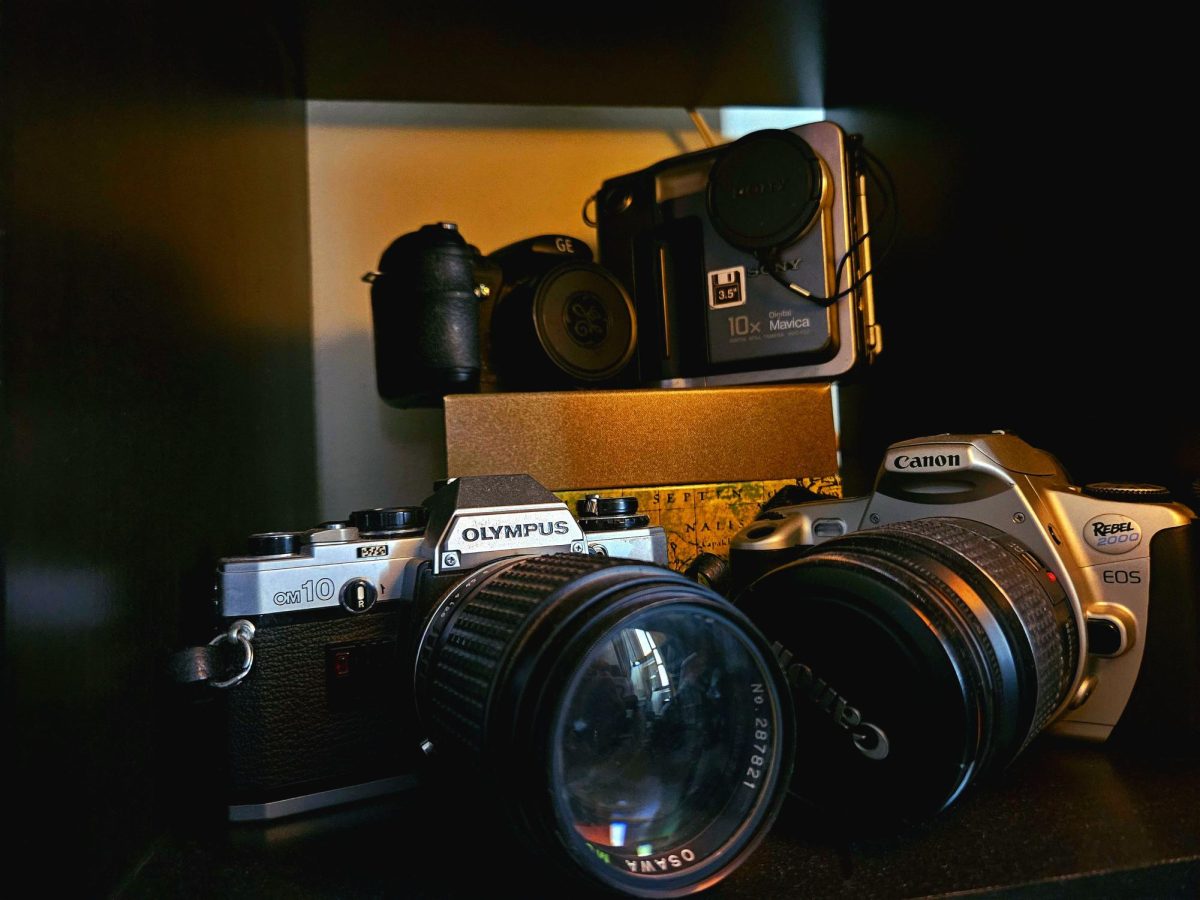 When it comes to finding glass, Gillespie has a method. Generally, uranium glass has a sort of "look" or color that his eye has learned to spot. Using a black light, he can confirm whether or not it's uranium glass by seeing if it glows. Uranium glass isn't the only glowing glass Gillespie has found using this method. Custard glass, Cadmium glass, and manganese glass have all been found by him in antique stores.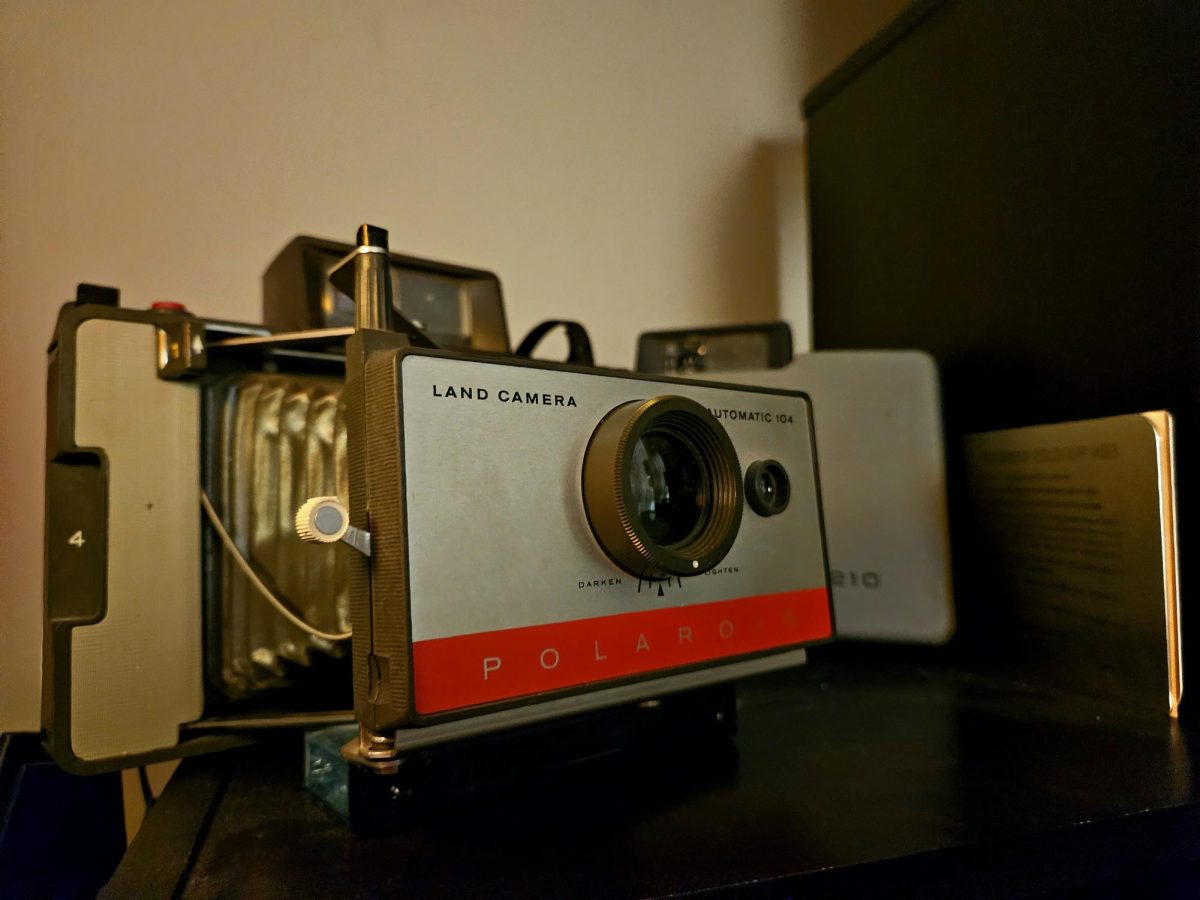 Finding vintage cameras is a different story. "Finding cameras is much easier because you're just looking for a camera. There's not anything special about it." Gillespie usually looks for Polaroids, or 35mm film cameras like old Canons or Kodaks.
In total, Gillespie's collection contains over 24 items: 15 vintage cameras, two projectors, extra flashes, lenses, and attachments, six pieces of uranium glass, and one piece of cadmium glass. None of the pieces are used, except for one camera; a Polaroid OneStep. "They [the pictures] are not great. They are like, very… either over exposed or under exposed, and you have to use the flash. Otherwise, it does not pick  up anything," Gillespie said.  As for the rest of the cameras, their functionality is unknown until he gets the proper film for them. The glass pieces, despite not having enough radiation to be harmful if used, also stay on the shelf.
Radiation
Uranium Radiation
The radiation level in uranium glass varies by weight from less than 1% to 25%, so it's perfectly safe to interact with. The uranium in uranium glass is chemically purified, so the radiation exposure is similar to that of activities like air travel or cell phone use.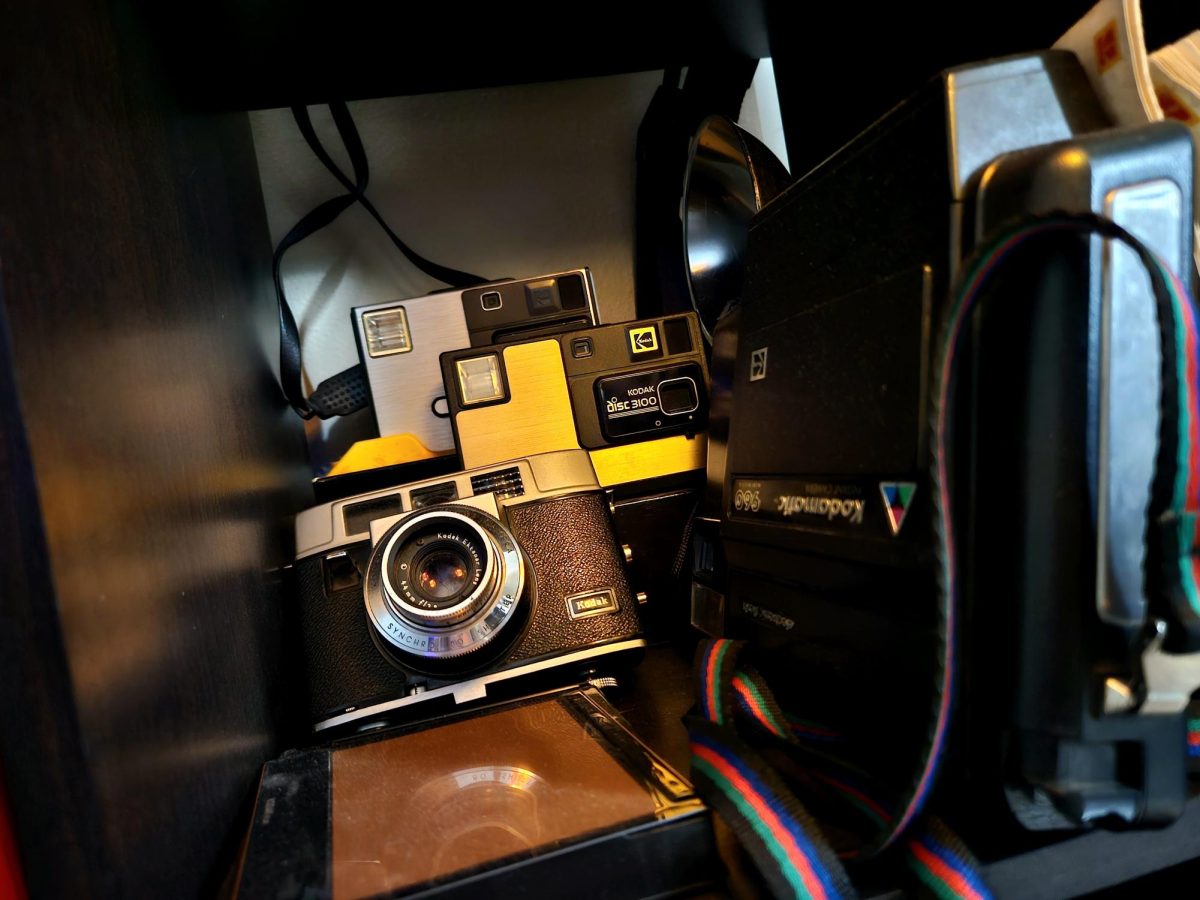 Gillespie displays his cameras in a tiered cubby shelf dedicated to them, and his glass is shown off in a china hutch, which he has added a black light to, for better display of the glowing glass.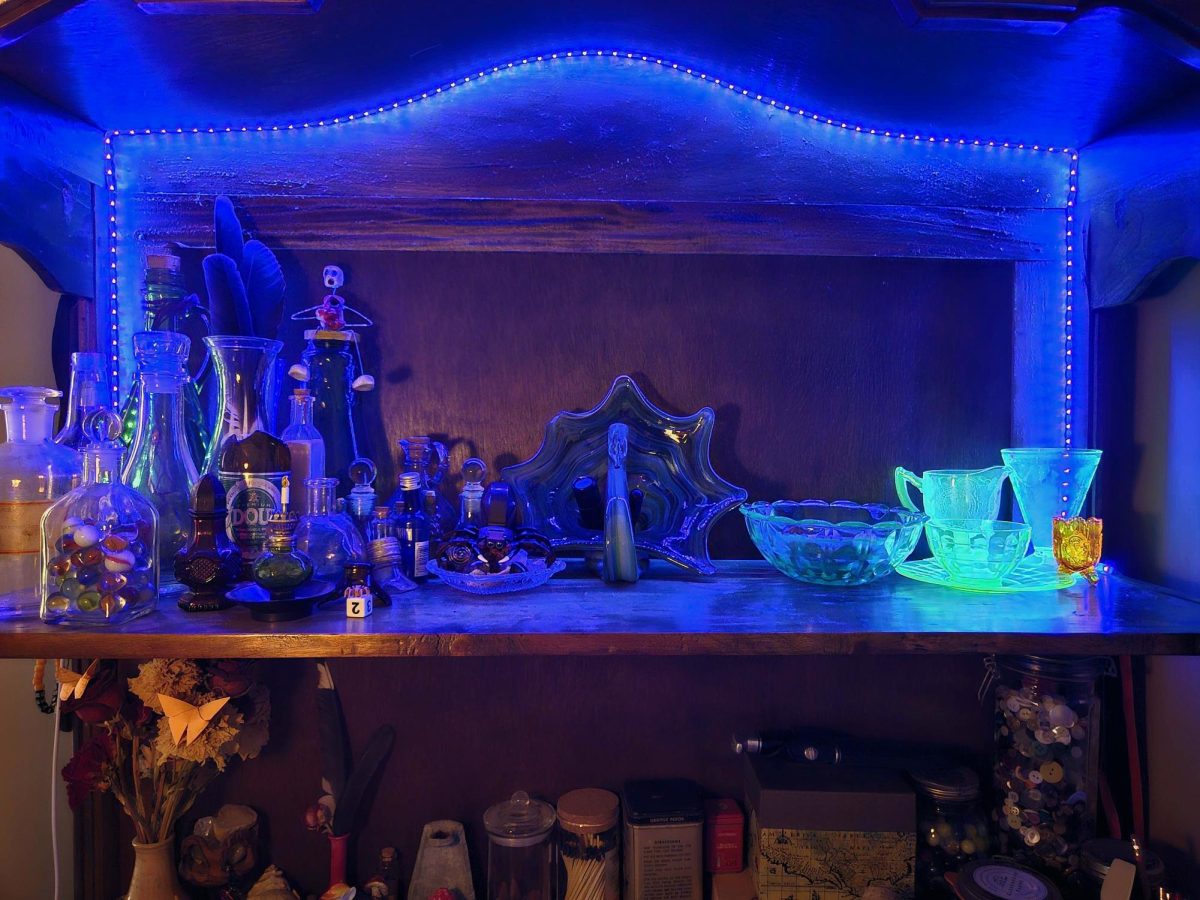 "Actually finding things can be really frustrating," Gillespie said. Because of their age, a lot of the few finds end up being broken or damaged. "I got a very large uranium glass bowl, and it was only $16, which is decently cheap, especially for a big bowl. But somebody had tried to cut a hole in the bottom to turn it into either a lampshade or a pot." Another problem when it comes to antiques is price. A set of uranium glass bowls, for example, was over $200.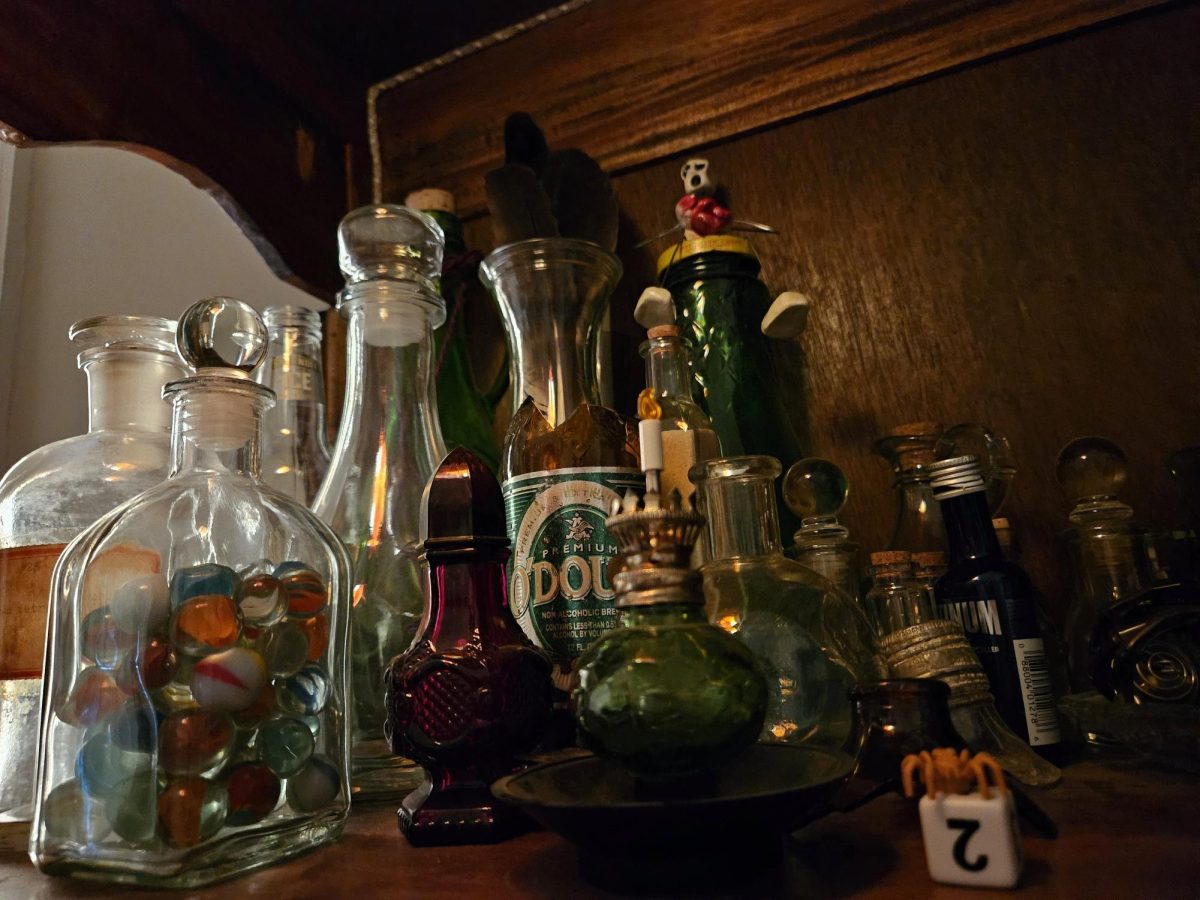 Instead of spending hundreds of dollars on cameras and glass, Gillespie likes to keep his price range around $10-$20 for cameras, and $5-$25 for uranium glass. On occasion, he visits auctions in which he can get a few cameras sold in a lot for free. 
For Gillespie, picking a favorite is difficult. "I wanna say cameras just for the tech and figuring out how things work, but with uranium glass the actual experience of collecting it is more fun,"  he said. "So I would say cameras are my favorite to have, uranium glass is my favorite to look for."
Gillespie encourages those interested in beginning a collection to go for it. Find what interests you and makes you happy. "Just go out there and look! You never know what you're going to find."