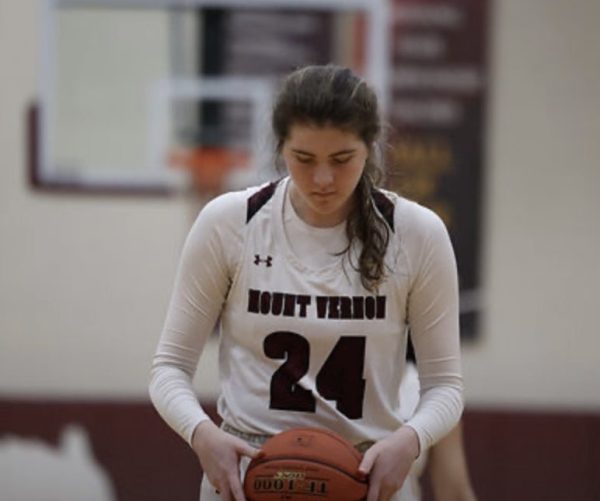 The buzz of the bright gym lights, the roar of the crowd in the bleachers, the squeak of shoes on the floor, and the pounding sound of basketballs bouncing — this is what Brynley Rasmussen looks forward to in November.
Rasmussen, a senior, has played basketball since fourth grade when she moved to Mount Vernon. In the beginning of Rasmussen's basketball career, she played on club teams Extreme, Iowa Prep, and Ballstars. Later in middle school she joined the school team. All throughout her career she has played post.
Rasmussen's favorite part about basketball is the competition of it all and being able to test herself against other players. Her least favorite part of the game is losing because "Everybody's kind of just sad," she said, explaining that when they lose, the focus is on "everything we did bad."
Last year's season went better than many expected according to Rasmussen. It was the second year for their new coach Nate Sanderson who Rasmussen said made a big change. "coming together as a team," She explained that during her freshman year, "It was kind of everybody for themselves." She believes that the greater connection in the team has led to their greater success.
Rasmussen believes that the team will do very well this season. There are some new additions to the team that she thinks will fit in very well. She is also looking forward to playing with her younger sister, freshman Rylee Rasmussen. This year will be the first time she has gotten to play with her sister.
Her most memorable game was her first varsity game. "I was scared, like really scared, just because all the girls,' Rasmussen said. "I'm like, they're so much bigger than me and I'm about to get demolished. That's was what was going through my head, but once you get out there, it kind of just like you're fine — you're playing with everyone you been playing with in practice." She said it was like playing on a whole new level.
Rasmussen's family also has a strong tradition of basketball. Her father played basketball all throughout high school. Both of her brothers played club teams in high school, and her younger sister also plays. The family will often play games together. "Every time we have a family get together we always play basketball to end the night."