MVFB Developing Fast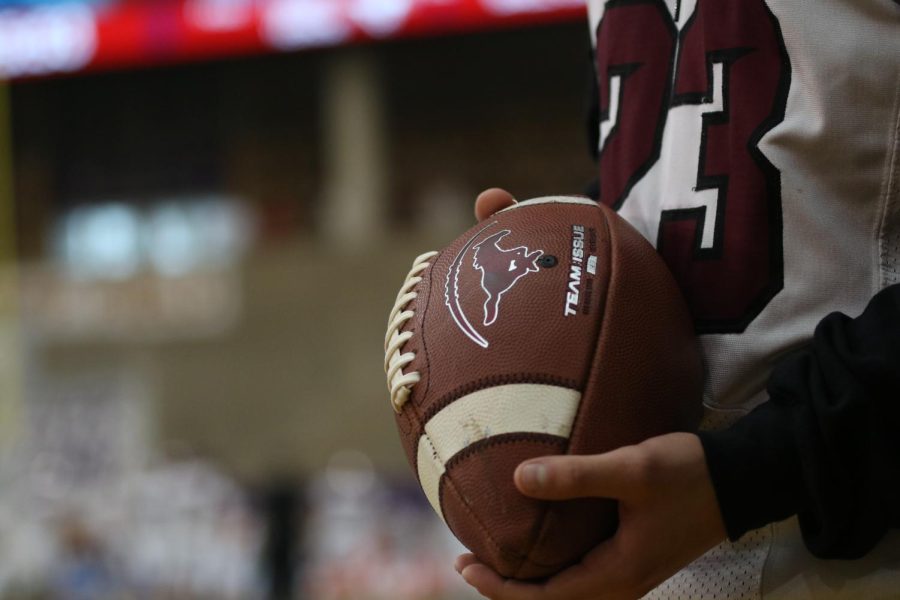 The Mount Vernon Football team went undefeated all season up to the championship game, where they lost a very hard-fought match. Every player on the team is a massive contributor to how the team functions each Friday night, but some athletes stand out as key players in and outside of the season. These athletes are the hardest workers amongst the team.
Many people strive to be called a hard worker, but it's an attribute that only a select few actually achieve. For football, being a hard worker means always giving your best during practices and games, putting in extra work in the off season, and overall devoting your life to the team's greater good. Athletic performance isn't the only part of the game, as athletes must also work to maintain good grades, do volunteer work to become better people, and manage obligations outside of school. Being able to maintain these activities, whilst still devoting many hours to improving athleticism, is what makes a football player a hard worker.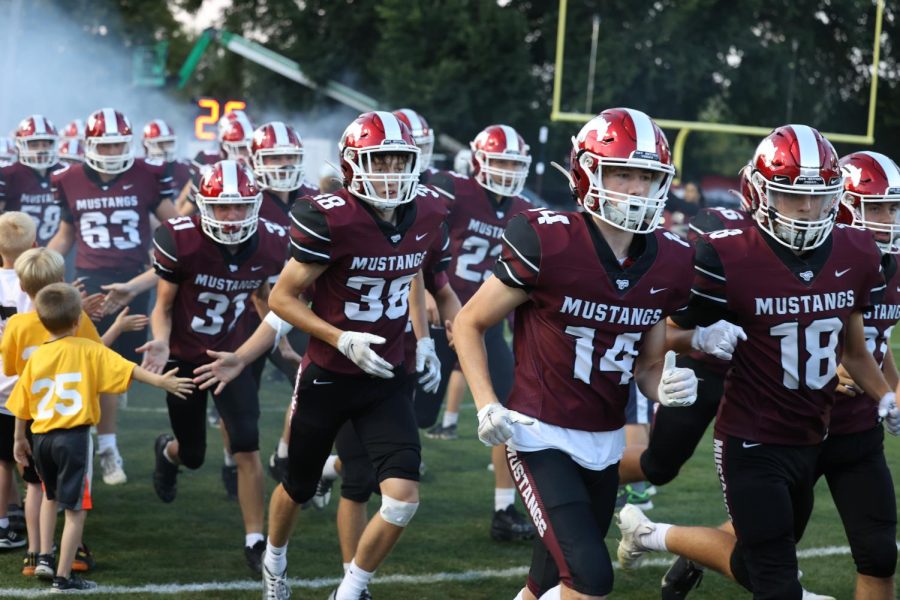 One of the most vital and well-known athletes amongst the football team is senior Vargas Locke. He is one of the most prominent leaders and hard workers in the football team, as he has been successful both inside the classroom and out on the football field. Locke averaged almost 10 yards per catch his senior year. ¨First of all, you make plays, then you get noticed," Locke said. "It requires commitment, effort, and determination. And with all those three things you can get anything done by putting your head down and trying 110%.¨  Locke in the classroom knows how to handle his work, ¨You HAVE to focus up, most of the time you can't have an airpod in and be distracted.¨  Locke has been a role model on the team and Mount Vernon football will suffer from the loss of Locke when he graduates.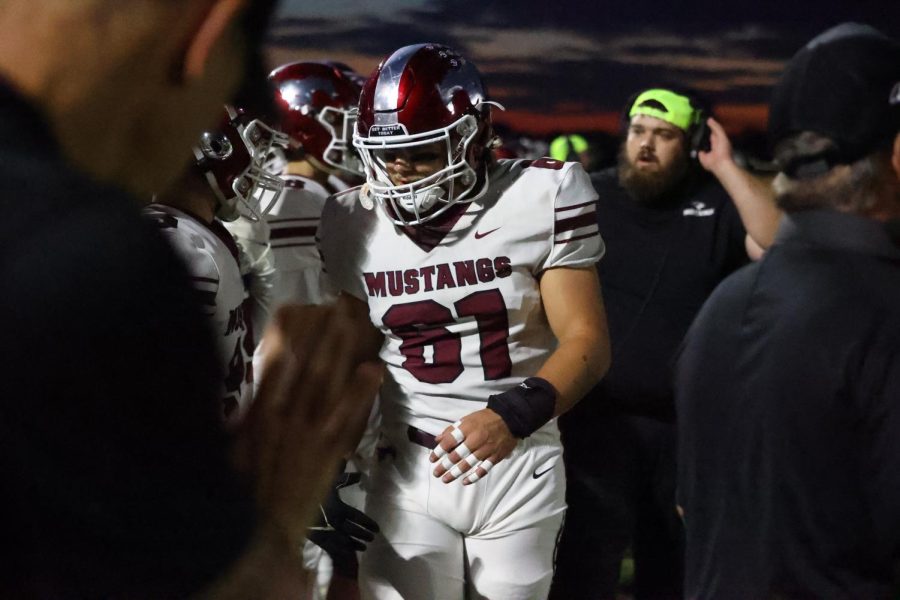 Clark Younggreen was a hard worker coming out of the womb. Rumor has it that he came out feet first already ready to run the football down the field. Younggreen was a large honoree for Mount Vernon Football, racking up many various awards such as First Team All State, District, and the All-Area Team. He was also a hard worker in the classroom, racking up back to back to back all-district GPA of  3.25 or higher. Younggreen started on varsity for three years and played every position on the offensive line besides being the right tackle. That goes to show how vital Younggreen is for Mount Vernon, as he is a versatile player that can dominate more than one position and can be thrown in whenever he is needed. 
Athletes like Younggreen don't come by often, as whenever he has free time you can see him at Elite, a gym on the Mount Vernon-Lisbon outskirts. He goes there year-round, constantly pushing his body to the limits. Sadly, an incident happened during his senior year when he suffered a horrific injury during his first playoff game. He tore a tendon and strained many more in his left knee. It was catastrophic to see him unable to play after he had been performing a fantastic football season. Even though Youngreen was hurt and wouldn't be able to play for the rest of the upcoming games, he was still a huge contributor to the team. You could always find him encouraging his teammates in a huddle or congratulating players for specific good plays. Even off the field, Younggreen was imperative to the success of the team.
Younggreen is expected to be at full training capacity for his knee in the summer-fall area of the year. He plans to continue his athletic career at a college for wrestling. Multi-sport athletes are huge for college recruiting coaches, especially athletes such as Younggreen, who have made it to state in each of their sports. Younggreen in his junior year started ranked 1st for 220 pounders, he made it to state and battled with his body to reach 6th place on the podium and achieve to rank his senior year as 4th. ¨I believe I am a  hard worker, but there is always room to work harder in certain things.," Younggreen said. "I always work hard athletically, but I believe I always have room to grow academically.¨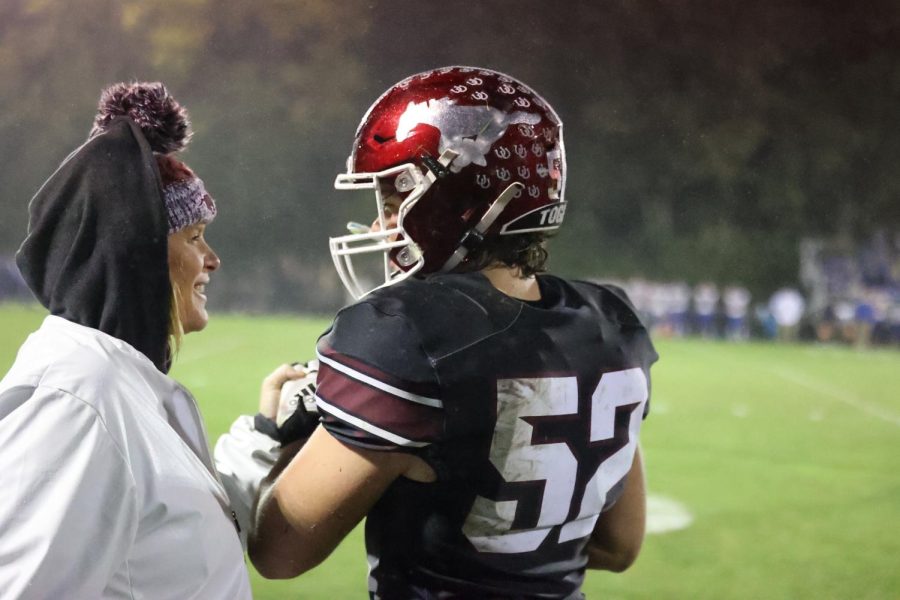 Clayton Flack hadn't started any game offensively or defensively his entire high school career until his senior season. In the summer, Flack received an unexpected phone call from  Coach Meester, the offensive line coach,  in which he was asked to play as a lineman his senior year. After being told this news, Flack put his nose in the playbook and his body in the gym. He was just as dedicated as Younggreen, always in the gym, or practicing drills at the LBC in Mount Vernon. Flack had to become the most knowledgeable player on the line, needing to know everything the defense was showing him. He excelled in his role on the offensive line. 
Flack and the linebackers had huge spots to fill at the linebacker level but the team absolutely flourished with how they played. They led the Mustangs to one of the best defenses Mount Vernon has seen for a very long time. Flack shined in the biggest games of the year, always following through on his assignments. Flack was also on the Football Council, which is the backbone of the football program. This demonstrates the vital role Flack maintained throughout the football program. ¨Flack had that mamba mentality," Younggreen said. "He was the first one in and the last one out, which does a lot for programs. He would stay after practices to work on his craft.¨
Hard work is in Mount Vernon's culture and is rich through athletics. Mount Vernon had many teams make it to the playoffs this year. Mount Vernon will miss these players and many more in the senior class.