Support from the Sidelines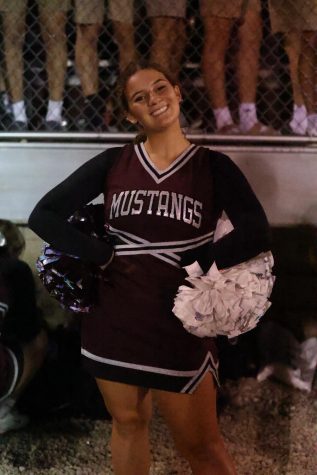 The weather is getting cooler, leaves are coming down, but the spirit is up from the sidelines where Nora Weiland and the cheer squad support and cheer on the football team every Friday night.
Weiland, a junior, started cheerleading freshman year. "I love cheer because of all the great friendships I made," Weiland said. 
Weiland was very nervous to join the cheer team and wasn't sure what to expect. Weiland is a base and enjoys the confidence it takes to hold her teammates in the air with all eyes watching.
Weiland's favorite cheer memory was the football team's first game of the year during the national anthem. Weiland remembered the national anthem began to play and the cheer team was not in formation or on the field, the whole team rushed to position. This memory was very eye-opening for Weiland because although the team was late, nobody worried or panicked; they were just living in the moment.
Although Weiland is only a junior, she is a co-captain to the cheer team. She also attended college camps over the summer. Weiland attended the University of Northern Iowa cheer camp and was amazed by the skill and mindset of the women coaching. She also enjoyed the challenge to try new stunts she had never done or seen before.
Cheerleading coach Trysta Lynner has affected Weiland's cheer career in a very positive way. Weiland was very on the fence throughout her freshman year about continuing cheer but her coach was very supportive and encouraged her to get better, making her confidence and enjoyment of cheer skyrocket.
Cheerleading has given Weiland the confidence to volunteer for her community and create her own jewelry business.
Weiland helps clean her church every week, including cleaning the sanctuary, bathrooms, kitchen, kid's room, and hallways. She also helps elderly members of the church with yard work; every week she goes to the eldest member of the church to rake his leaves and mow his lawn.
Weiland's favorite hobby to enjoy during her free time is jewelry. Weiland began making jewelry in seventh grade for her own purposes and helping her friends if their jewelry broke. Weiland designs and creates many different types of jewelry such as bracelets, rings, and necklaces. 
Weiland's grandmother told her she should start selling her jewelry and that she could sell it at her store. This is when she created her Instagram page called The.New.Creations to post her inventory.
"I love the satisfaction of when I finish a piece of jewelry, and that I can make it specific to me," Weiland said.
Another thing Weiland enjoys about her jewelry is being able to help the people that matter in her life with adjusting, fixing, and creating jewelry for them.