Students Enjoy Homecoming Dress Up Days
Homecoming week is finally here and the students were excited for a week full of dress up, games, and don't forget – the dance. Each day this week students dressed up as something different, Monday was P.J. day, Tuesday was Adam Sandler day, Wednesday was Decades day, Thursday was Minions day, and Friday was Spirit day.  
While roaming the halls Monday morning, it looked like many people just rolled out of bed, it was probably true. Lots of plaid pajamas and onesies were seen on Monday pajama day. "In my opinion the best spirit day this week is p.j. day!'' said freshman Emma Houghtailing.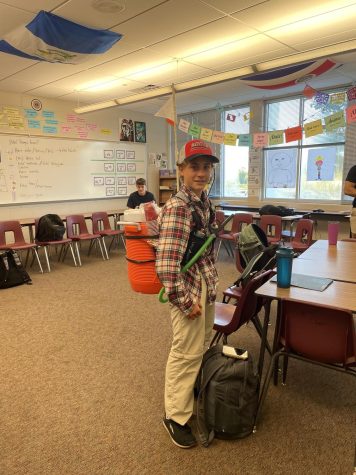 Tuesday was Adam Sandler day. People dressed up in big, baggy, clothes. Basketball shorts and a T-shirt a size or two too big. Many students wore their hats backwards, and even drew on a mustache or beard to replicate Adam Sandler exactly.  Klayten Perreault went all out for Adam Sandler day, wearing a plaid button up shirt, a cooler strapped to his back, and a flag sticking up in the air. 
Wednesday rolls around and on this day the students dress up as any decade they want. 80's, 90's and 2000's outfits were seen throughout the day. Dresses, heels, jean jackets, and plaid button ups  were common on Wednesday. 
On Thursday students dressed up at Minions. Yellow shirts,  jeans or overalls, and round goggles were all worn. Some people even wore Minion Pajamas or dressed up as other characters from the minion movies.
The week of school ends with Spirit day, wear your white and maroon to show Mustang pride. The football players had their jerseys on and the cheerleaders had their uniforms on with the mustang bows in their hair. " Spirit day is my favorite because it unites us," said freshman Hailey Bock.