Fresh/Soph Stangs Dance Past Bobcats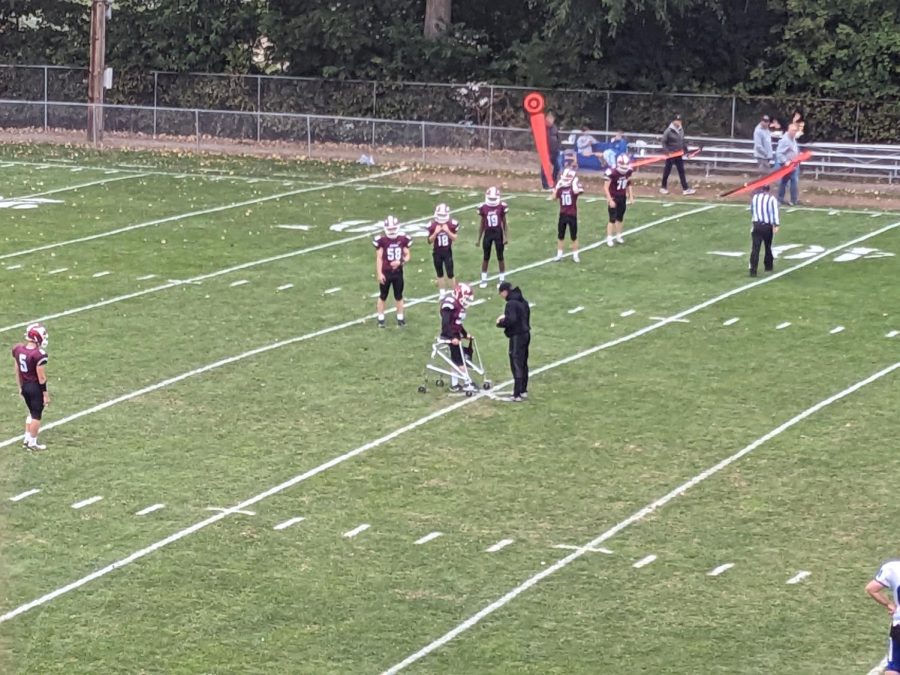 The Mount Vernon fresh/soph team hosted the Benton Community Bobcats Friday evening. With just under 6 minutes to play in the first quarter, the Bobcats were set up for a punt inside their own 10-yard line when Leuie Korte, a freshman, was able to get a piece of the ball knocking it down. Mikey Ryan, also a freshman, was able to dive on it in the endzone making it 7-0 with sophomore Bennett Harp converting the PAT. 
When Korte first lined up in the Mustang's punt block formation he thought "I can do this and I just told myself to watch the ball and hope for the best," Korte said. "And after I felt it hit my forearm I was in a nervous state to try and find the ball until I looked up to see Mikey Ryan with it, and that's when I went crazy and ran back to the sideline to all of my cheering teammates." 
When Ryan saw the ball fly up in the air, "I knew we had a chance to score it because they were so close to the endzone," Ryan said. "So I was just thinking get on the ball as fast as I can and score the touchdown."
Right before the first quarter ended sophomore Joe Briesemeister was back set up to kick a punt, once the ball was snapped the Benton defense came rushing in hard. Briesemeister had to scramble, Jase Jaspers, a freshman, happened to be just past the line of scrimmage and wide open so Briesemeister threw it to him. Jaspers then ran for the first down. After the first quarter had ended the Mustangs were in great field position to score. Jaspers took the handoff and got pushed in a moving pile across the goal line.
Not even 2 minutes into the second quarter Jaspers returned the punt for a touchdown from his own 37-yard line. It was now 21-0 in favor of the Mustangs.
Kellen Haverback, the freshman quarterback, airs it 25 yards to sophomore Jake Haugse to which he runs it in for the TD with 1:29 to play in the second quarter.
Sophomore Jaks Lee came in with the interception, and the Mustangs would then drive down for another 6 with Haverback's throw to sophomore Watson Krob in the back corner amongst a cluster of defending Bobcats. Harp went 5/5 PATs in the first half helping the Mustangs to a 35-0 score at halftime. 
The third quarter consisted of a field goal and a safety making the score 40-0 in favor of the Mustangs. In the fourth, Mount Vernon helped themselves to one last TD before the game ended. The final score, Mustangs 47, Bobcats 0.