Mustangs Clinch Solon Invitational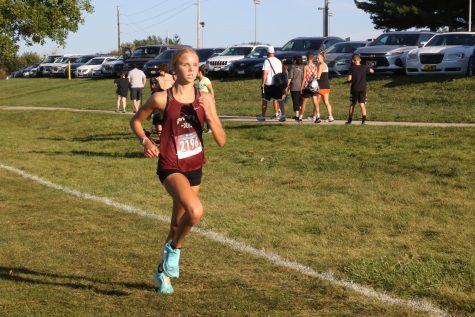 Mount Vernon Lisbon girls cross country run away the competition on Sept. 9 at Solon invitational. Mount Vernon – Lisbon tied with a final score of 46 with Solon. In the event of a tie, the win goes to the team with the fastest sixth runner. Gabi Moehlman was the sixth runner for Mount Vernon Lisbon, placing 27th, beating Sophia Stahle out of Solon who placed 30th bringing home the win for Mount Vernon-Lisbon. Sept. 9.
Senior Lourdes Mason secured the victory at the Solon 5k invitational, Mason ran an 18:44.1 beating Kayla Young by .85 seconds. Mason holds the Mount Vernon high school woman's record for the fastest 5k time of 17:56.5.
Mason is currently ranked 3rd in the 3A conference for cross country. She ran her fastest time at the Ames Kirk Schmalz Invitational on Sept. 1.
Senior Laura Swart is another leader of the team she holds the second fastest time in the high school on the heels of Mason with a time of 19:17.30, with an average mile time of 6:20.
Swart is currently ranked 7th in 3A, she ran her personal best at the Cedar Rapids invitational on Sept. 8.
Mount Vernon's winning score was 46 the girl's finishing spots were, Lourdes Mason (1st), senior Lara Swart(3rd), Sophomore Emrie Johnson(7th), Freshman Kiersten Swart(11th), senior Gabi Moehlman(27th), Junior Maeve Krogmann(31st).
Mount Vernon girls stood at the top against Solon(2), Tipton(3), Williamsburg(4), Xavier Cedar Rapids(5), Benton Community(6), Davenport North(7), Central Dewitt(8), Bettendorf(9).