Mustangs Head into Homecoming Undefeated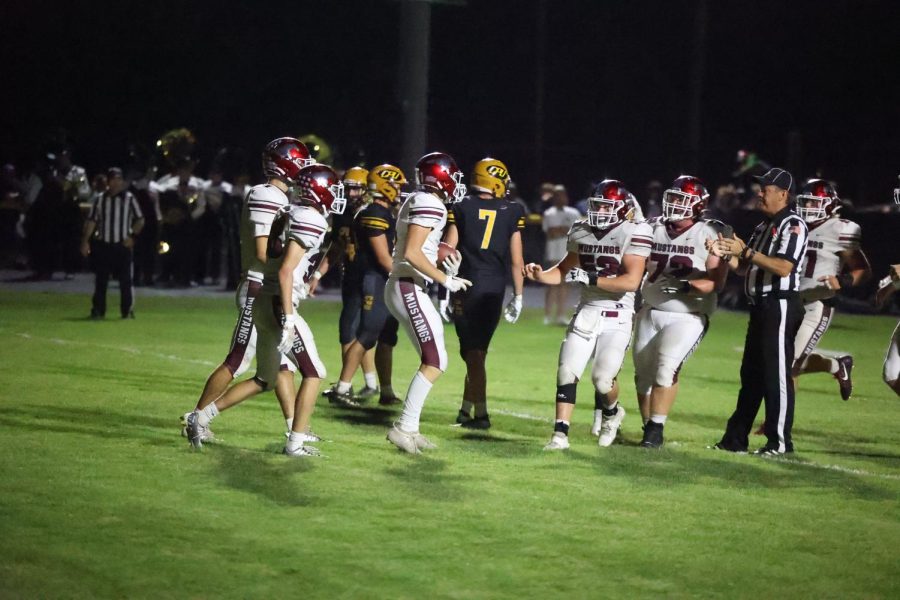 Mustang receiver Austin Deeb dominated the Storming Pointers last Friday night with two touchdown catches helping the Mustangs take a 42-6 victory. 
The 2-1 Center Point Storming Pointers hosted the 3-0 Mount Vernon Mustangs Friday night.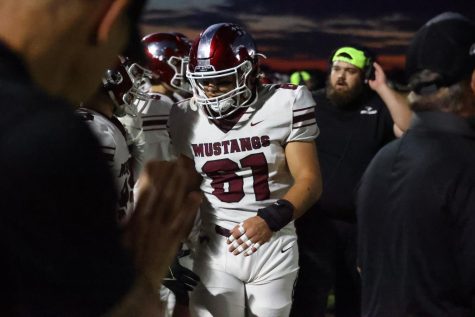 "We knew the Pointers were gonna give us all they had," said senior offensive lineman Clark Youngreen.
The Pointers came out early with a touchdown drive and missed the two point conversion making the score 6-0 Pointers. On the kick off the Mustangs had another hiccup, almost causing a safety.
The Pointers were bouncing off the wall with the early lead and you could tell the Mustangs were down.
Because of the rough start, Younggreen told the team, "Bend don't break. I told them that the whole game," he said.
The Mustangs answered back twice and at halftime the Mustangs led 14- 6.
The Mount Vernon student section had quite the halftime show for their fans. This consisted of a hot dog eating contest and a short 50-meter race. After the show it was back to football.
The Mustangs didn't stop there. In the second half, quarterback Joey Rhomberg completed passes to senior Brady Erickson and senior Jenson Meeker. Counting the two to Deeb, makes four touchdown passes for Rhomberg on the night.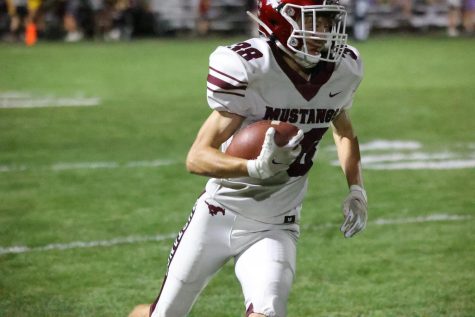 The scoring didn't stop there as O-lineman Younggreen got a chance at fullback punching it in for another touchdown. Junior Jackson Hurd also put one on the board for the Mustangs.
The game would come to an end with the Mustangs on top 42-6. This will put the Pointers to a 2-2 record and move the Mustangs to 4-0.
"I knew they were gonna try and take over early and it would be my chance to step up and have a good influence knowing that cpu wasn't going to be focusing on me," Deeb said. "It felt good to be able to do that for the team." The pre-game speech motivated the team. "The coaches told us that CPU was gonna give us their best shot but we wanted nothing less!" Younggreen said.  "Just go out, play hard, play smart, do your job, play from the first snap to the last snap as hard as you can and have fun." 
The Mustangs hope to continue their undefeated season this Friday night against the 3-1 Benton Community Bobcats for the Mount Vernon homecoming game.