Freshman/Sophomore Stangs top the Pointers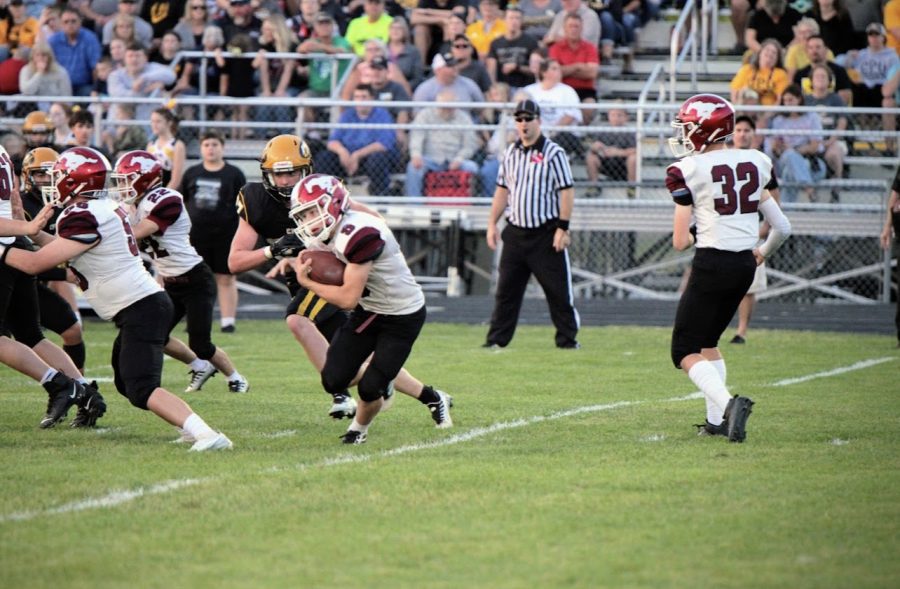 The Mount Vernon Mustangs Freshman/Sophomore team took the field last Friday beating Center Point Urbana 30-14. 
The Mustangs had a few key players in this win. One being quarterback Kellen Haverback, who has shown to be a leader on this team. Haverback found a few key wide receivers to help push the Mustangs to the top. 
Another key player was Cole Thurn, a wide receiver. Thurn managed to reel in two touchdowns before the final whistle blew. One being from 45 yards out, right before halftime. Haverback dropped back to pass and found Thurn streaking down the field, Thurn went up and grabbed the ball in a very tight spot around defenders. "Everyone around me made me look good, my line blocked for me, and my wide receivers found ways to get open," said Haverback. 
The running game was really strong as well, with Jase Jaspers, and Mickey Ryan. Jaspers was able to find the end zone himself. Ryan, who also splits time at wide receiver, who has been one of Haverback's favorite targets all season, also grabbed a touchdown himself. 
The Mustangs defense was in the spotlight all night too. They were flying all over the field making plays. 
"The inside backers were in the game all night," said sophomore cornerback Jake Haugse. "Between Thurn, and Jaspers they were able to stop CPU's running game all night," added Haugse. 
The Mustangs hope to continue their undefeated season against Benton Community this coming Friday.