Number 60 Stars Under the Friday Night Lights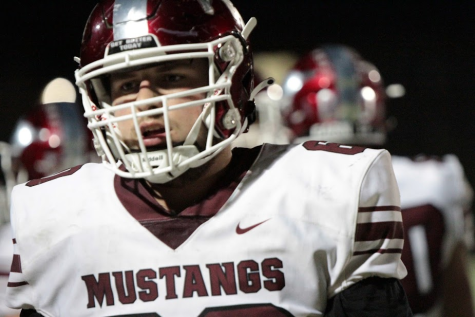 Everyone is buzzing with excitement. The shouts of the children fill the air. Burgers and hotdogs handed out one after another. Metallica's "Enter Sandman" rumbles through the speakers. The student section is already leading chants. Kids are playing touch football in the endzone and parents are nervously watching the team warm up. In the meantime number 60, Tavian Gorsch, is getting himself ready for battle.
Gorsch, a junior at Mount Vernon High School, started playing football when he was in third grade. "My dad really influenced me to join football," Gorsch said. "He loved his high school years of football and knew that I would love it too."
Gorsch starts on both sides of the ball. On offense, he is the first string left tackle. He blocks for the skill positions. Gorsch enjoys playing defense more than offense. He is the first string nose tackle. Lining up in the center of everyone, he is always getting dirty. He is quick off the ball and explosive ripping through the offensive line. Gorsch has no problem filling these spots standing at a strong 6'2" and 275 lbs.
Gorsch believes that the hours upon hours of practice they have put in are going to pay off this season. He is constantly thrashing with Clark Younggreen a senior guard and defensive-tackle and Brad Vislisel, a senior tackle and defensive-tackle at practice. "I just want all the guys to push each other and make each other better for the team and Gorsch is a guy who definitely does that!" Younggreen said.
It's super common for athletes to get butterflies and be nervous before competing in front of a crowd. Gorsch listens to music to calm his nerves and clear his head before a game.
The Mustang Football Team has nine regular season games. The team is currently 2-0, winning their first game Aug. 26 against Anamosa at the First Street field. A week later, the team traveled a few miles south to Solon. Gorsch played a huge role in the win against the Mustangs rivals, the Spartans. He had a number of key blocks, multiple solo tackles, and a tackle for loss. After 19 straight years of losing to the Spartans, Gorsch and many others victoriously took down the Spartans.
The Mustangs play the Tipton Tigers at home on Sept. 9. The toughest game on the Mustangs' schedule is Benton Bobcats. The Bobcats are currently ranked #4 in 3A while Mount Vernon sits at #5 in 3A. This is projected to be a super close game.