Top 5 Student Section Themes at MVHS
Top 5 Student Section Themes
Mount Vernon High School students always bring a fiery crowd to every sporting event. Whether it be football, volleyball, or basketball, no matter the sport, the MVHS students are energetic and always there to support. Even when the game or match doesn't go our way, there is never a dull moment thanks to the creative outfits that our students wear to fit every theme.
Each year MVHS students pass down a Twitter account to post the theme for each and every event to spread the word as far as possible. Each theme is usually decided on a day or two before each event and is posted to the Twitter page. If there is talk among the school of a better idea, we put it to a vote on Twitter with a poll. A simple majority wins to settle any arguments. With so many themes to choose from, which are the best of the best? Well, according to a survey sent out to MVHS students, these are your top five favorite student section themes.
#1 Beach
It's no doubt that this theme is popular among students. You can always spot the crowd of bright fluorescent leis and floral patterned shirts as you enter an arena. Rain or shine, the students are always willing to go all out for this theme. "During one home football game against Solon it was 40 degrees and raining but we all were still wearing fully unbuttoned shirts and shorts in the cold," senior Henry Steine recalled. 
#2 Construction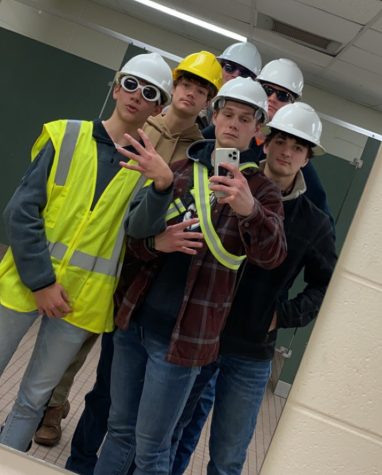 This theme was only recently used by the MVHS crew, premiering at an away boys ba
sketball game against Marion. The outfits were so popular that the theme was used for a second time at the very next home game. Much of the student section sported hard hats and bright yellow hi-vis vests. Rugged and stained jeans with ripped and muddy boots filled the bleachers of the home gym during an electric boys and girls doubleheader against West Delaware.
#3 White Lies
After an explosive trend on the viral app TikTok, the white lies theme spread like wildfire throughout the whole country and eventually found its way to our student section. The theme consists of white t-shirts with writing in black sharpie of a "white lie" on the front of your shirt. While the theme brings mixed feelings to some, almost everyone can agree that it is always funny when someone brings an original idea to this theme. "At a home football game this year, I wore a shirt that said 'I will pay you back,' everyone got a good kick out of that," said senior Aden Locke.
 #4 Jersey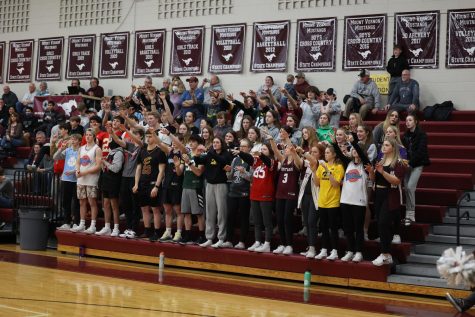 Although it placed lower, jersey night definitely deserves a spot on this list. The student section is always amped to rock their favorite teams to an event. You can find various basketball, football, and baseball jerseys of every team on jersey night. It is always cool to see the retro and custom jerseys that some students bring out. "Jersey night is my favorite because you get to see what team everyone else likes, and that can help you pick your friends," said Junior Gus Andrews.
#5 Pajamas
Pajama theme is exactly what it sounds like. Many students sport their flannel patterned pajama pants and a white t-shirt with fuzzy slippers and socks. Usually, this theme can get pretty repetitive as you search through the student section, but it gets exciting when you see someone in a Spongebob onesie or some super cool Fortnite pajama set. All of the themes are what you make of them and this one can either be super fun or a little bland.
In the end, it all comes down to the students wearing the themes and MVHS always shows up with an excited crowd. Whether it is a crowd favorite theme or the students show up without one they will always be there to cheer on the Mustangs. Themes just add an extra element of fun, excitement, and even competition against the other team's student section. Remember to always be respectful in your cheering and have fun at all the sporting events. Go Mustangs!