I'm Feelin' '22
A Look Back at the Journey Through School
A long winding road has dropped the class of 2022 off here. Just a few weeks from graduation, closing out a 13-year journey. Out of 94 students, 62 of us have been together since kindergarten. Growing up together, it's hard to imagine a future not fully involved with the same groups of friends eating lunch together every day. So much has been forgotten about, so let's take a walk down memory lane with the class of 2022.
Kindergarten: Not Clowning Around
The first year of school. Making new friends. Eating school lunch. At our beginning came the end of Mr. Nelson's storied career as the elementary school principal. Kindergarten is no easy feat but the rewards abound at the end of the year. A performance unlike any other, every student chose their role in The Kindergarten Circus. The circus ranged from acrobats and hip-hop dancers to strongmen and ringmasters, we were the most professional of professionals. Months of preparation came together in the middle school gym where parents and siblings rained adoring cheers on us.
Senior Abbey Keen chose to be a hip-hop dancer. "I was so ready to dance to the Black Eyed Peas on performance day, but sadly I got the flu on the day of the circus and couldn't go," she said. "Instead, I ate spaghetti and never got to experience being in the circus."
Every year in elementary school the Olympics brought us together at the track in friendly competition, racing and jumping and crawling. However, when we were in kindergarten, bad weather threatened the pinnacle battle. Thankfully, the Olympics were moved inside to Small Multi-Sports Center, a collegiate stage for kindergarten competition.
The Locker: I Speak For the First Graders
First grade was a year of firsts. Finally, we were no longer the youngest kids in the school. We had a new principal, the first of many. Our responsibilities expanded to having our very own lockers! Kind of. Lockers were assigned within each class in groups of two or three.
On Dr. Suess' birthday, parents came in and cooked us green eggs and ham, but our six-year-old minds were disgusted by the green food coloring. Never fear though, donuts and muffins were delivered to the classroom to relieve our hunger. "I loved eggs and ham but since everybody else in my class thought they were gross I didn't eat them," said senior Lily Booth.
At the end of the year, our second principal, Mr. Eisenbarth departed.
A Second Grader Stole A Dinosaur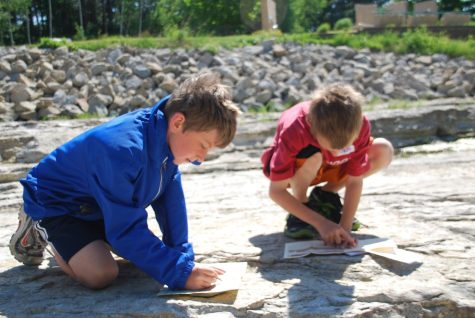 Another new principal! Mrs. Bush took over as the elementary school and middle school principal. We couldn't let a principal hang around for too long. We seemed to have an knack for scaring them away.
What second grader doesn't love learning there were dinosaurs in Iowa? None! That's precisely why they decide to break it to you then, that no, there were never T-Rex here, but yes, we would get to see some fossils. We all piled onto the bus to go climb around the rocks by the Coralville Dam and go on a scavenger hunt for different fossils. On the adventure of a lifetime, our 8-year-old minds were basically seeing living dinosaurs. "I stole a fossil from there. It was just a little shell," said senior Jack Drahos.
Third Grade: Sasparilla and Spelling Bees
New principal. Mr. Hansen, just for one year again.
Your teacher starts assigning people their characters and whispers of who is in whose families ripples through the classroom. That's right. You are going to Usher's Ferry. Our trip back in time, just not as far back as second grade went.
The day was rainy and cold, a constant drizzle covered the poor frontier children climbing off the yellow school bus. Each had five dollars crumpled in their pocket, exhilarated with thoughts of living on the prairie for a day. But first, to school. The older kids walked over to a separate bench and listened to a lesson. Then, a spelling bee. One kid reigned victorious and would be remembered forever.
"I lost the spelling bee to Owen Brase. I was so mad the rest of the day," said Kambree Hultquist.
"Did I? I feel like I would've remembered that accomplishment," said Owen Brase, or maybe not remembered forever.
Finally, the crumpled bills were released from their damp prison and presented in exchange for a lukewarm sasparilla. Everyone was shepherded out into the rain to sip their drinks and talk about the day, one that would be remembered far longer than who won the spelling bee.
Fourth Grade: Fun and Freedom
Fourth graders. The big dogs. The kings and queens of elementary school. We finally got to rotate classes more, but with that came more reminders that middle school was going to be extremely difficult.
Right at this time, the hit song "What Does The Fox Say?" was released. Of course, our fourth-grade class took on the noble cause of writing a parody: What Does Rudolph Say? A video with extremely high production quality was created and shown at the annual concert, Cocoa and Carols.
Weeks are spent preparing for Cocoa and Carols. Everyone's families visit the classroom to enjoy the beautiful melodies of classic carols and sip on an Igloo cooler full of hot chocolate. A special time not only because of the performance but because we got to leave early from school with our parents. The big dogs ditched class (with permission) right before winter break. So rebellious.
Just as we left elementary school, a principal stuck around, Ms. Jones is still the principal.
Middle School: The Weirdest Years of My Life
Middle school, the next step on our path to today. Fifth grade was not as bad as the elementary school teachers made it out to be. In reading class with Mrs. Moss, we learned about greek culture and made paper mache vases. Everyone's vases had a little different shape since the base was a balloon. After the paper mache dried, we had to reach down in the vase and carefully peel the balloon away from the paper then decorate it with Sharpie designs.
Radio waves, microwaves, infrared raaaadiation… Mrs. Poduska, the fifth-grade science teacher, was very memorable. Her walls were covered with anything you can imagine, stuffed animals in the shape of body parts, posters, dead bugs. She would give out little pink extra credit slips with different point values written on them. Then, during recess, you could come into her classroom and visit the extra credit store. She had everything from parody food erasers to homemade fuzzies (puffballs with googly eyes glued on).
"Me and Georgia Pierce collected them," Hultquist said. "They were their own little families. I had a little plastic container to carry them around with me all the time." We also learned an absurd amount of science parody songs in her class. The lyrics from earlier are the song that has stuck with us the best, "The Electromagnetic Spectrum." At least we can say we learned something from her.
Sixth Grade: Punnett Squares and Prefixes
Terra. Ped. Ology. Do you know what those mean? If so, you may be entitled to compensation, or maybe you had Mr. Nichols for sixth-grade social studies. His class was never boring, with a homemade mummy tomb in the back of the room. One day, we showed up for class and the whiteboard outside the room told us to stay outside. We were going to be archaeologists for the day. The classroom was pitch black but we used flashlights to creep around the room learning about ancient cultures. That was just one day though. Every day, we learned new Greek and Latin roots which were a chore for us sixth graders to study in addition to our incredibly difficult spelling tests from Mr. Jaspers.
Sixth grade couldn't get worse, right? It did. The "baby lab" was the final project in our genetics unit. Partnered with a random student of the opposite gender, we used Punnett squares to mix our genetics and learn what our hypothetical child would look like. We rolled dice to determine the race of the baby but got to choose the name ourselves.
Seventh Grade: Flipped Canoes and First Sports
Seventh grade was our first year of school sports. After 13 years, we could finally put our athletic prowess, or lack thereof, on full display. Serious, life-changing decisions were made: volleyball or cross country or football? The answer would present the classic seventh-grade argument about whose practices were harder.
The year closed with a canoeing adventure for the ages. Every year the seventh graders go canoeing, but our year was especially bizarre. We hadn't been row, row, rowing our boats for long when it began to thunder… "It started raining and one person had to sit on the floor of our canoe," senior Maddie Plotz recalled. "As we paddled past, we saw another group had tipped their canoe. It was so funny."
One of those students in the tipped canoe was Diego Torres-Roe who said, "My canoe flipped over and Mr. Shea had to rush me to the end because I was getting hypothermia." Not so funny.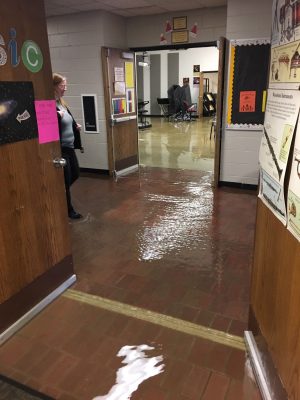 Eighth Grade: Cardboard Models and Chance Vacations
Eighth grade had many highs and lows. We made the daily trek to the high school for our exploratory classes, even through the snow. However, the coolest thing the eighth graders did was J-Term.
Divided into groups by last name, we took on the artistic project of creating scale models of national monuments. "We made the Pentagon because Scott Koster was insistent that we build it. We had to use Google Maps to get exact measurements since you can't find plans for the Pentagon online," senior Lauren Swartzendruber said. In the same groups, we planned a road trip from a random starting place to a random destination with a limited budget.
Luckily, one fateful afternoon a water main burst in the district auditorium and flooded part of the school. We were dismissed from school for three whole days while the elementary and high schoolers suffered in class. Everyone got to skip some part of our J-Term projects and take a mini-vacation from school.
Freshmen Field Trip Fun Days
High school, the final stretch, finally began. J-Term, yet again, was a highlight of the year. Freshmen were subjected to two straight weeks of health, but it wasn't as bad as that sounds. Every couple of days, we'd go on different field trips. One time it was sledding on Press Hill, another time it was swimming at the University of Iowa pool, or it was ice skating at the Cedar Rapids Ice Arena. "I had so much fun. Ice skating was the best because I made videos of Avery Plathe and Piper Price skating," senior Jenna Sprague said.
Sophomore Year: The Big Shift
Sophomore year was The Big Shift, in many different ways. Block schedule days were shifted from Thursday-Friday to Tuesday-Wednesday and eighth block was implemented. The days of MTSS where students could sit in a classroom for the last hour and half of their Friday playing on their phone or talking to their friends were no longer. Instead, we were going to get stuff done. But it didn't work out that way. Frustrated that students were skipping out of eighth block, the administration required us to sign in to eighth block every week.
The annual World History class trip to Chicago is anxiously awaited by all sophomores, so when rumors began to swirl that we weren't going, it was distressing. Finally, we confronted Mr. Voigt about them. He confirmed. The visit to Chicago was not happening. Everyone started chirping about getting called out, their parents were going to take them to Chicago anyways. In the end, we all piled on the busses for the much shorter drive to Davenport to visit the Putnam Museum, the same field trip we took in sixth grade.
The rest of The Big Shift came three-quarters of the way through the year when everything stopped. During spring break, Dr. Batenhorst called to say the school would be closed for two weeks due to COVID. After a month of no school, we moved online. Classes were optional, so no one went.
Junior Year: Student Section and Super Stars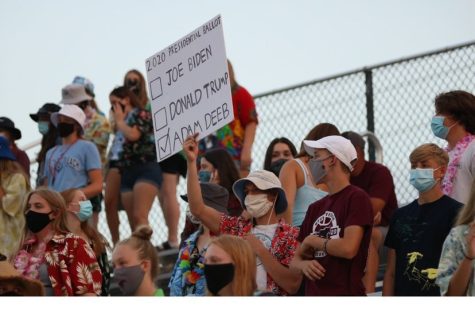 As COVID continued to rage on, we came back to school in a hybrid format. One day half the student body would come to school while the others were online, then they would trade places. The only time we were all together was at football games. In the student section, tape markings were placed in measured spots, six feet apart, to keep us socially distanced. The issue was that even under normal circumstances, we still barely fit in the student section. Students would sit over tape markings in an effort to hide the fact that their friend right next to them wasn't on one. Mr. Thede wasn't fooled though. We were reprimanded multiple times for disobeying the tape. However, we didn't sweat it too much. It was our junior year and we were going to enjoy our football season no matter what.
After homecoming was canceled, we attended our first prom! The theme was Hollywood and a red carpet was rolled out on the path up to the Performing Arts Center lobby. The art room had been transformed into an oasis from the heat of the dance floor, with an open door to cool off, as well as some Capri-Sun pouches.
Senior Year: The Last Hurrah
Senior year. We finally made it. Sixty-two of us stuck it out all the way from kindergarten to twelfth grade in Mount Vernon. But even after all that time, we still managed to not have our required CPR certification done. One Wednesday in February, during eighth block when we usually got to go home, the seniors were forced to hang around and learn CPR on dummies.
Thank you Class of 2022 for making great memories out of not-so-great situations.