Wrestle Like A Girl
Imagine you have always wanted to do something because you've been around it your whole life, but then people tell you no… because you're a girl. You can't play a sport because people feel uncomfortable with a girl practicing with other boys. You can't compete because this sport is for boys. But when women's wrestling was brought to Mount Vernon her sophomore year, Maddie Plotz was eager to join.
Senior Maddie Plotz has been going to Mount Vernon since kindergarten and has been involved in volleyball, track, soccer, softball, and most importantly, wrestling. She has been around the sport of wrestling her whole life with her dad and uncles as high school wrestlers and her two younger brothers had been wrestling since they were young as well.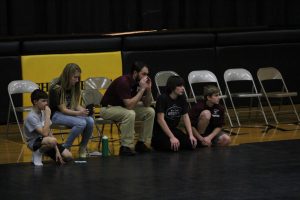 Plotz has also been a wrestling manager since middle school, where she recorded matches for the team and in turn learned even more about the sport. Being a manager gave her a purpose before she could compete. It gave her a reason to be there and helped her learn more about it and grew her love for the sport.
Once she did start competing, Plotz said it was a little more difficult to continue managing, but the other managers were always supportive of her and helped her along the way so she could keep doing both. "I would've been sad if I wouldn't have been able to do it," Plotz said. "I feel like I'm doing something for the team."
When it was announced that women's wrestling was being added to Mount Vernon's list of athletics, Plotz was eager to join. She was finally going to get to do something she'd been wishing to do since she was a little girl watching her brothers on the mats.
When the team started during Plotz's sophomore year the main coaches were Kyle Jaspers and Adam Truitt. They were the ones who started the team and today Greg Murphy and Aaron Truitt carry it on. She was excited because she knew the coaches well and she knew that they were passionate about the sport and about the idea of getting girls more involved. "My first thoughts on coaching Maddie were excitement," said Coach Murphy. "I knew she was excited about wrestling and was itching to compete."
Plotz said she never really had a problem wrestling the other guys in practice. Although some people were worried about girls wrestling boys, Plotz felt like it helped her get better and learn more along the way. It was also beneficial that she knew a lot of them because of her managing career. She said her dad was a little skeptical of it at first but eventually came around to the idea. She enjoys being around the other guys as well as the girls in the program and feels like they have built a family within the team.
During the beginning of her first season, Plotz had dislocated her knee during a practice. This was a setback for her because this meant she wasn't able to compete at the girls' first meet. It didn't stop her though. She was determined to compete at the first one she could, which was at Anamosa the next month.
The excitement that day about her first time competing outweighed the nervousness she had about her knee injury. She was ready to get started on something she's been waiting to do. The first match ended in an exhilarating win, the next came with the same outcome, however the third was not as lucky. The feeling of being on top of the world was soon knocked down. She had lost her last match and said it was probably her worst losing experience to date. "I reacted really dramatically, over the top," she said. "But now from that experience, I look back at it and I know that it was really stupid, there was absolutely no reason to do that." She uses this reaction as a learning experience and hasn't acted this way since.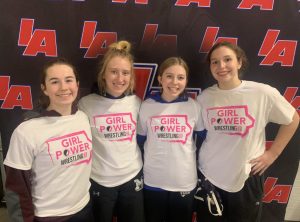 The first year of girls state wrestling in 2020 was in Waverly High School's gym. In 2021 and 2022 it was held in the Extreme Arena in Coralville. It was much bigger and much more professional feeling than a high school gym. Plotz said the feeling of competing there was surreal and nerve racking but more than anything, exciting. It felt more official and she could tell that people were taking women's wrestling more seriously.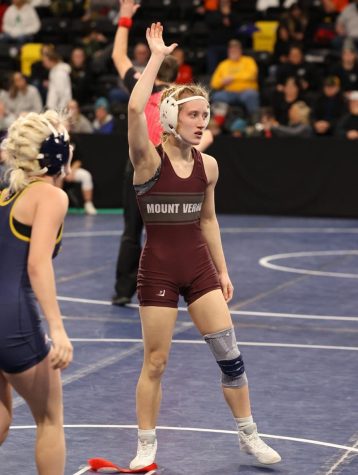 Plotz's favorite memory is from this year's state meet. It started with her and her dad looking at the brackets to see what she'd need to do to place. Then she was down on the mats and she had one more match to win in order to secure a spot in the top eight against a girl from Bettendorf. After being down for most of the match she pulled through with a win. As the referee called the end of the match, Plotz looked up at the stands and found her dad in the crowd. He looked right at her and pointed in her direction with a huge, proud grin as if to say "Yeah, you just did that." Everyone from the team was extremely excited for Plotz and it was a very emotional time for her. "Everything I had been working on for the last three years was finally coming together."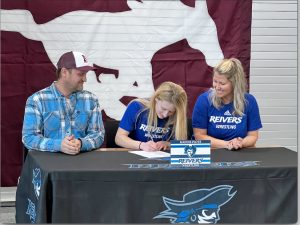 In addition to being a top women's wrestler at Mount Vernon, Plotz will also be continuing her wrestling career into college at Iowa Western Community College in Council Bluffs, Iowa. She is the first woman wrestler to sign from Mount Vernon High School and is excited to keep competing at a collegiate level. "Now that I have the opportunity to wrestle for a few more years I am super excited," Plotz said. "Especially since I've only gotten to since sophomore year, getting more years of competing is really exciting."
A piece of advice Plotz wants to give to any girls thinking about going out for wrestling is to just try it, even if you have no experience you might end up loving it. "There are a lot of opportunities and it pushes you in different ways than any other sports do, mentally and physically."
She hopes that the sport continues to gain popularity and is excited to see what the high school does with it in years to come.