Three Wrestlers Advance
The District Eight wrestling qualifiers ended with a bang for the Mustangs this past Saturday, with junior Henry Ryan pinning his opponent to qualify for state, along with his teammates Jackson Jaspers and Clark Younggreen who had qualified earlier. These three will be heading to Des Moines in a week to compete for a chance at the state title.
Younggreen (220, 44-2) ended the day with two quick pins, the first over Tyler Hancox of Solon (21-14) and the second over Kai Malone (28-21) of Columbus/WMU, sending him straight to state as district champion.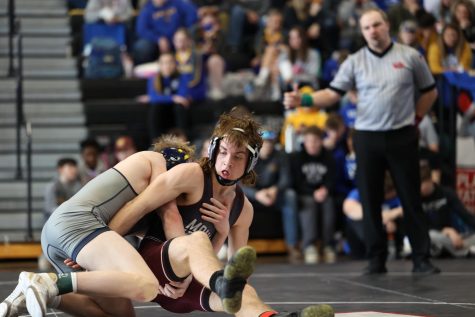 Likewise, Jaspers (138, 41-8)  finished in a strong first place, tech falling his first opponent, Bowen Davis of Mount Pleasant (24-10) and winning 2-0 in finals against Tate O'Shea of Notre Dame.
Ryan's (152, 42-6) road to state was a bit more bumpy. After winning his first match over Clayton Sebetka of Benton (30-15), he was pitted against a very strong opponent that he just couldn't overcome, so he was forced to go to a wrestle back. Fortunately, he easily pinned his opponent, Daid Karam of Solon (26-29) in under 30 seconds and secured a second place spot in the districts.
It was an extremely tough district match for all involved this past Saturday. Not only was Mount Vernon, a top team, attending, but the event was held at Williamsburg, another top team, and Notre Dame High School was also present, bringing along some very good wrestlers. Though Mount Vernon did compete in the state duals, it was no walk in the park to get individuals to state.
"We knew that it was going to be a tough meet from the moment it was announced," Jackson Rhomberg, a junior wrestler said afterwards.
Jackson (145) was one of the five wrestlers that didn't qualify for state. The other four were Klayton Perreault, Croix Shebetka, Jackson Hird, and Zatyk Holub. Of these five, Shebetka (132) and Perreault (106) both fought hard in the wrestle back, where they had a final chance to wrestle for state, but both came up just shy in third place.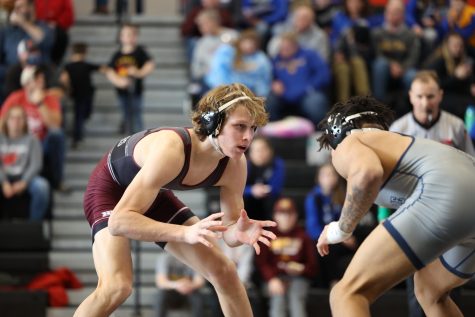 "Obviously it's frustrating, but this isn't our last chance either, so all we can do is come back stronger next year," said Shebetka after he lost his wrestle back.
Actually, every wrestler, even the ones that didn't qualify for districts this year, will have another chance next year. Of the 14 wrestlers on the boys varsity lineup, there are no seniors, so the team is going to be even stronger next year.