Tying the Record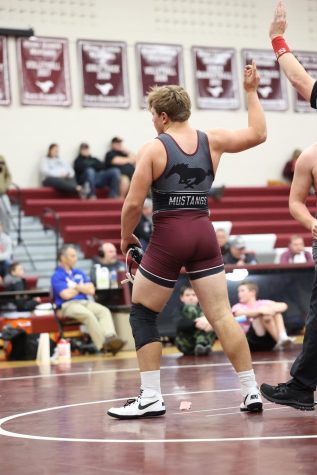 The final score to the wrestling dual against South Tama with Mount Vernon coming out on top was 41-22. With that dual win Feb. 8 the Mustangs have tied their record for most dual wins in a season with 22. That win also helped Mount Vernon advance to the finals of the regional duals to compete for a spot in the state tournament.
The dual against South Tama started with the 152 weight class. Henry Ryan came out very strong with multiple take-downs and getting back points in the first period. Ryan ended up getting the tech fall that gave Mount Vernon a five point lead.
Clark Younggreen (220),  is ranked in the top 10, and wrestled someone who was also ranked in the top 10. They wrestled a tough match and with a couple seconds left, Younggreen took him to his back but was not rewarded points so the match went to overtime. Younggreen wasted no time and got the take-down within seconds to win the match.
"It was a very tough match for Younggreen; he wasn't rewarded points and almost lost because of it," said Riley Mudd.
Mount Vernon wrestlers at weights 106, 132, and 285 helped strengthen the lead with pins. Jackson Rhomberg finished off the dual with a win at 145.
Mount Vernon lost to West Delaware 56-12. It was a tough loss for Mount Vernon because everyone wrestled to the best of their ability and had nothing to show for it. West Delaware also was the number one team in 2A.
West Delaware bumped up their number one ranked 195 wrestler to wrestle against our 220 pound wrestler Younggreen. "Clark put up a good fight, but in the end Voelker came out on top, winning the match," said Riley. Our 106 wrestler Klayten Perreault won by a medical forfeit that put the Mustangs on the board. Jackson Jaspers also won his match at the 138 weight class.
Even though the Mustangs ended the season with a loss, they were proud to have advanced to the finals of the regional duals. They were also proud to have tied the record for most dual wins in a season. The Mustangs had a duals record of 22-6 to finish the season.
Eight wrestlers will compete at Districts tomorrow at Williamsburg: 106- Klayten Perreault, 132- Croix Shebetka, 138- Jackson Jaspers, 145- Jackson Rhomberg, 152- Henry Ryan, 160- Jackson Hird, 182- Zatyk Holub, and 220- Clark Younggreen.