Mount Lose to Solon after a Tough Battle in the Second Half
The Mount Vernon Mustangs traveled down Highway 1 on Tuesday to play their rivals the Solon Spartans. The Mustangs lost to the Spartans 55-47 late in the game.
The Mustangs came out very strong against the Spartans holding a lead the entire first half. Sophomore Jackson Kutcher, coming back from a broken arm, hit the buzzer beater three from the corner to end the 1st quarter. ¨It felt good to get that first shot to fall and to take the lead at the end of the first quarter,¨ said Kutcher. ¨It gave us some good momentum going into the second quarter. It also felt really good in front of their student section since they were chirping at us the entire game.¨ Kutcher ended the game with 9 points, all being three pointers.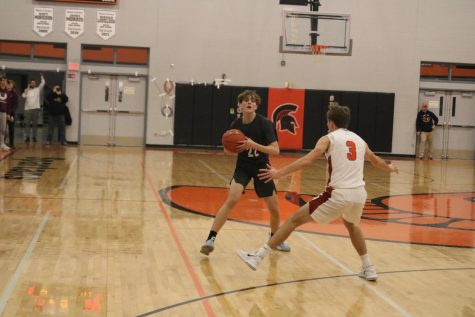 Tuesday night was a night for last second shots for the Mustangs as Sophomore Joey Rhomberg hit a deep three to end the half after a missed shot and loose balls in the possession. Joey Rhomberg finished the night with 18 points and 4 rebounds. The Mustangs would go into the half up 12 points with some cushion coming out.
Turns out the Mustangs would need it as the Spartans came out and stepped on the gas as the shots stopped falling for the Mustangs. Senior Kael Dimmer says that the Mustangs lack of success in the second half is due to the Mustangs low energy both on the bench and on the court. ¨Once Solon went on their run starting the second half we started to lose our energy,¨ said Dimmer.
¨The difference in free throws was they made theirs and we missed ours,¨ said Head Coach Ed Timm. ¨The second thing was they attacked the basket and we settled for jump shots. They outplayed us in the second half and I did a poor job of adjusting.¨ The Mustangs were 1 for 6 for the night at the free throw line which would later reflect in the final score.
The Mustangs will play the Benton Community Bobcats Friday night at 7:15. They will also honor the nine seniors before the game.