Macy Eskelsen, Master Social Media Manager
Dribble, swish, score! The smell of popcorn and the sound of shoes squeaking on the court surround you. While one crowd goes wild and the other fills with sounds of disappointment, senior Macy Eskelsen is taking pictures and making note of the current score to update the Mount Vernon Boys Basketball Twitter page. 
She started her journey on becoming a social media manager here in high school after seeing Abigail Keenan posting pictures she took for a Michigan football team. Keenan studies at Brigham Young University, which is where Eskelsen plans to go. After keeping up with Keenan, Eskelsen realized that this is something she was very interested in, and since she knows most about basketball and she plays no winter sports she decided to contact Ed Timm and Derek Roberts, the boy's basketball coaches, and asked if she could run the Twitter page. They agreed.
Being a social media manager for sports can be tough, especially in high school. Eskelsen balances working on the account and all her school work and other activities. During the school year, she participates in cross country and plays tennis and plans to run the tennis Twitter account this spring. Eskelsen spends up to four hours each week making graphics, going to games, sending tweets, and socializing with the boys to properly run the Twitter account.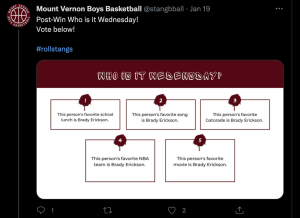 Each Wednesday, Eskelsen sends out a "Who-is-it Wednesday" tweet, which has five questions and five answers, and the students have to guess which boy on the basketball team had answered the questions for the week. She said that she wants everyone to get to know them better, on a more personal level, and this was a fun way to do it. 
In the future, Eskelsen mentioned that she would prefer to be a social media manager for sports for at least a portion of her life. More specifically, she wants to be a social media manager for a baseball team. Since baseball is a much slower pace than basketball, she would be able to live-tweet as the game is happening, instead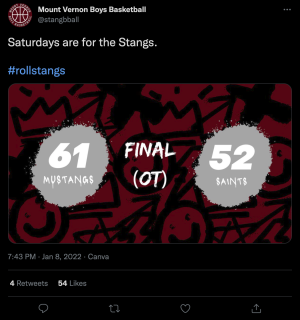 of just giving updates every now and then, as she does now. She planned to live-tweet more when she first started, however she quickly found out that tweeting that much brings down the engagement rate, so instead she updates with the scores at halftime and the end of the game, with some nice looking graphics she made herself. Her most-liked
tweet of all is from January 8th of this year, showing the final score between the Mustangs and the Saints.