Scrimmage Showcases Reserve Talent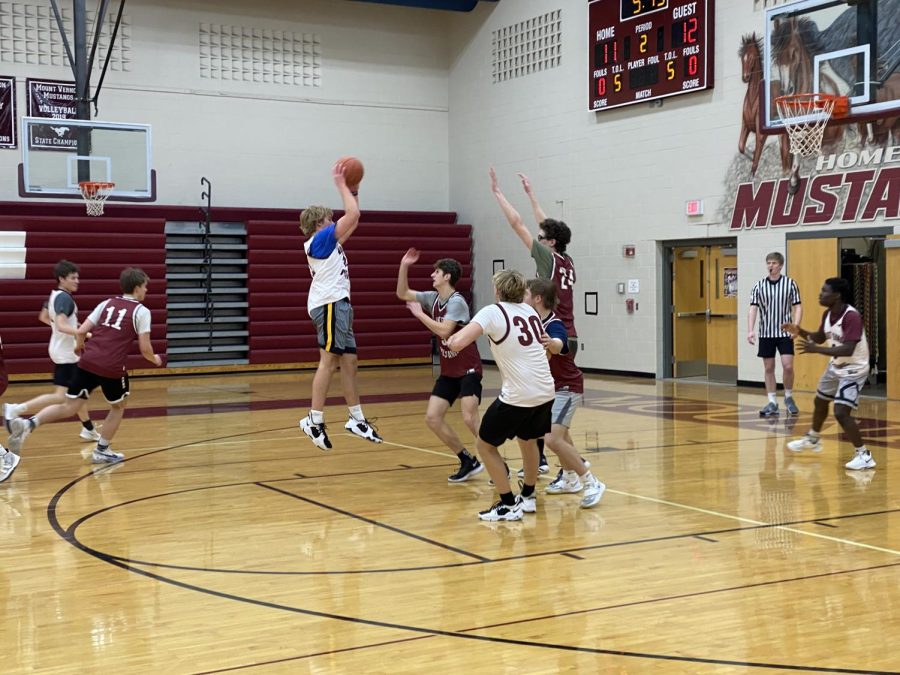 After a very intense battle during the Mount Vernon Boys Basketball reserve scrimmage, or "Extravaganza" as the team likes to call it, the maroon team came out on top Feb. 1, with a final score of 108-84.
Although most weeks of practice are tough, the boys basketball team likes to mix it up at practice every once in a while to hold an intrasquad reserve team scrimmage. Since its creation, it has now been deemed, "The Extravaganza." Each side chooses three players from the opposing team to be worth 5, 10, and 15 points per shot (with a few exceptions). It was created to allow the players who may not get the starting spot to get even more minutes outside of the reserve games and create a friendly competition among the team.
"We may get pretty fired up during the scrimmage, but at the end of the day, we all had a good time," said Adam Deeb of the white team.
This year, the white team had won the first game, but after a fierce battle on Tuesday, the maroon team put the series back at 1-1. At the tip, the maroon team knocked the ball out of bounds, forcing possession over to the white team to start the game.
The first quarter was back and forth and excitingly close the entire 8 minutes. As the clock winded down the white team was ahead by a narrow 2 point lead. However, in the second quarter, the white team began to pull away as the maroon defense couldn't keep up. When it mattered most, Brady Siders, the 15 point player, hit a thrilling shot from deep to put maroon back in the lead before the end of the half.
Maroon came out with the ball at the start of the third quarter but quickly lost the ball to a rough pass. As Deeb, a senior on the white team, stormed down the court, the maroon team couldn't keep up and white quickly took back the lead with a nice jump shot from Deeb. The remainder of the third quarter continued with a seesaw of leads from each side. When the last 8 minutes of the game were ticking away from the scoreboard, it wasn't looking great for maroon. Down by almost 10 and the 15 point player for white, Kael Dimmer, hit a short shot to put maroon even farther behind.
With mere seconds left, white was up 84-58, maroon ball. Oliver Gardner passed the ball inbounds to Ben Gilbert-Binder, starting the clock. Gilbert-Binder stormed down the court dodging the white team left and right, as he neared the hoop, he launched himself off two feet. He went up with the ball down by almost 30 points and landed on the ground victorious.
A dunk from Gilbert-Binder was worth 50 points this game, making the final score 108 maroon, 84 white.
"We really only had one option," said Gilbert-Binder, "I saw the opportunity and took it." Fortunately, his teammates cleared the lane by pulling the defenders out to the three point line. This allowed Gilbert-Binder to have an open path from the top of the key to the hoop. "We knew what we had to do," player coach Owen Brase said, "and that was to get the ball to Binder."