Vacation Extravigations
Crystal clear water, rolling hills, and lively cities are all perfect vacation destinations. Students from Mount Vernon High School have explored many of those vast terrains.
Bahamas Disney Cruise
A giant Disney cruise ship headed towards the Bahamas was Sophomore Ashlynn Carter-Shook's first out-of-country experience. The cruise ship was filled with all sorts of rooms and activities a little kid can only dream of. "It was so big I was definitely nervous," Carter-Shook said. 
The stops they had taken were very organized and timely. Many shops lined the area showing beautiful items of culture and handfuls of diversity. Swim time was also accounted for with some dolphin friends. And to end the trip elegant dresses lined the cruise ship as a Disney meet and greet occurred. 
Spain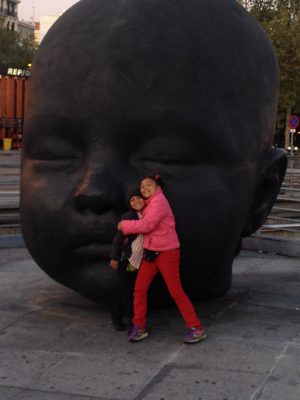 Many different countries fill freshman Cana Safo's memories. She has traveled to 10 different countries with her
family and had planned to visit more, but COVID had different plans, stopping her brother and dad from watching the Olympics in Japan. 
Safo's favorite countries were Spain, Iceland, and Norway due to the stunning views and exciting places she went to. "The people and streets were gorgeous." 
One of those was a professional soccer game, where she met a girl who offered her popcorn in Spanish. The girl kept asking if she wanted more and Safo kept responding with Sí. "That was the best popcorn I ever had," Safo admitted. 
France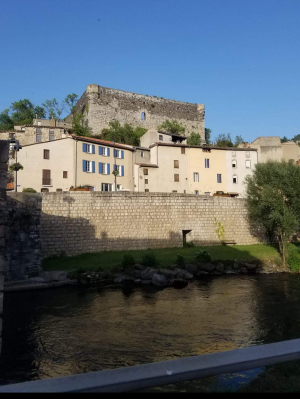 A river runs by their small townhouse window in France. Rolling hills fill the countryside. This wasn't Freshman, Avi Anthony's first time seeing the lively villages of Europe. Their parents had bought a property, so their parents could move to it after they graduated. 
Usually, their trips range from 10 days to two months, during that time they became close with their neighbors, occasionally eating dinner together. They also spent a lot of time swimming at a lake only five minutes away from their townhouse. 
The streets were buzzing with cars, maybe a little too many. A minor car accident occurred and someone wasn't very happy. Anthony had been with their mom and brother at the time in a car and saw the accident happen.  One of the people involved in the accident stopped their car. And they shattered the window and stole around 200 dollars from their mom's lap. 
Canada
Trees as far as the eye can see and lakes are scattered within the wilderness. This was just another Canada fishing trip for Sophomore Mollie Snedden. She would head to Canada with her brother and dad, fishing on Lake Lac Seul.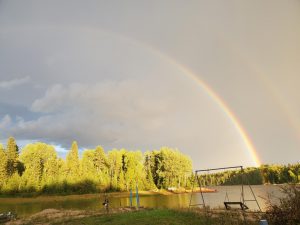 Thrashing and fighting against the line, and reeling in the 29" northern pike would become one of Sneddens'
favorite memories. Along with occasionally getting kinder eggs, fishing is what filled her time in Canada. 
During one of her fishing trips, her cousin joined her and ended up catching a fish with a smaller fish inside of its mouth. But the bigger fish wasn't the one to bite the hook, the smaller fish had bitten it from inside the fish! 
"You are in the middle of nowhere with little to no cell service. It will teach you that there really is a life outside of staring at your phone." Snedden said, explaining the joys of being in the wilderness. Being off the phone gave her time to explore and even find some bears in a junkyard. 
Hawaii
A warm salty breeze flows through their hair, the ship bounces on the waves, whales can be seen in the distance. "Depending on what side you were on it was either extremely beautiful or just a place that reminded me of CR." Sophomore Xavier Kirton stated. One whale pops its head above the surface of the ocean right by where they were standing. 
Along with a whale watch they also took an abundance of tours, including a coffee farm, volcano park, and macadamia nut factory, all in the beautiful state of Hawaii. 
Las Vegas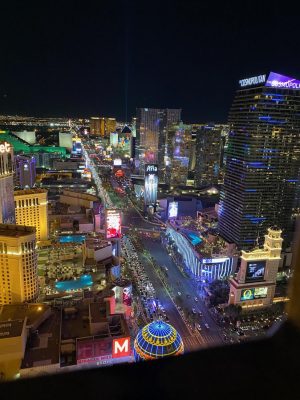 Bright neon lights fill the lively city of Las Vegas, where Sophomore Ava Remerowski decided to visit. The streets were filled with people and contained stair crosswalks that went over the roads above cars. 
Remerowski stayed in a huge hotel that had a stunning view of the city, especially during the night. She could even see a lit-up Eiffel tower from her room at night! The hotel had 70 floors and included a huge casino and massive grocery store. 
A night helicopter ride was one of her favorite activities. The helicopter was able to fit Remerowski, her dad, and two other couples. The helicopter flew around the city showing some of the skyscrapers and the vibrant lights of the city. Occasionally the helicopter would turn and lean into the turns squishing the riders, luckily the doors were closed so no one would fall out.