Waving the Flag for a New Club
Katana Snyder

Ava Remerowski

Sophomore Sarah Fluharty, co-captain of the Color Guard, has recently started an after school club for Mount Vernon's Color Guard team. The idea stems from last year, when Lynn Burgin planned to start it up. However, the COVID pandemic hit and the idea was scrapped. Now that it's officially started, Fluharty plans to continue coaching it until her senior year, when the flag will be passed onto the next captain(s) of Color Guard.

Winter Guard is a group of performers that dance and perform with an apparatus—either flags, rifles, or sabers—typically during basketball games or at state competitions. The difference between Color Guard and Winter Guard, is that Color Guard performs with the marching band and Winter Guard does not. Winter Guard performs to pre-recorded songs.

Emily Patten, a sophomore and another co-captain of the Color Guard who isn't participating in Winter Guard this year, would like for the school to have better funding for the club. Then when she joins next year she'll be able to experiment with more elements and aspects of Winter Guard. "Once we get more funding for it … we can have more fun with it … we can play around with different elements of Guard, like rifle and saber."

Fluharty has set goals for the club. Long-term: she would like to go to state competitions by her senior year, short-term: she wants to get Winter Guard assembled and have a few performances. Since the club is already assembled, Fluharty has made performance plans. "I have a plan to have three different groups that are each featured at different times, instead of performing in a big group of 15." Her expectations for the 2021-2022 school year are to have at least "two to three performances."

The members of Winter Guard would use the club to practice extensively and learn their routines — which, according to Fluharty, will "feature lots of solos this year."

During the process of setting up the club, many things were brought into discussion; for instance, what time and where it would take place.

"There was an idea to make a first hour Winter Guard class," Fluharty said, "add it to the school's curriculum. The problem with that is I am already in two classes first hour, and I can't split my first hour three ways." She doesn't want it to become a first hour class because she either goes to orchestra or band first hour, and that means that the team would be practicing without a coach to help guide them.

Fluharty asked members of the Color Guard team if they would be willing to practice during early bird. "I actually had the majority of the kids doing it [Winter Guard] say they would commit and do it for early bird." The only issue with early bird is that the team needs a place to practice, and as winter approaches, practicing outside is off the table. She suggested locations such as the PAC lobby, the gym, or the commons.

Fluharty had also heavily considered utilizing the middle school gym on early out Wednesdays, since it's a tall and open space perfect for flag tossing. Currently, Winter Guard practices take place in the elementary school gym after school from 3:15-4:30 every Friday, starting on Friday, Nov. 12 and ending some time in February.

At first, Fluharty had doubts about whether she would be the right person to coach the Winter Guard club, but support from her teammates and close friends helped her gain confidence to do it. 

As coach, Fluharty is responsible for creating and teaching routines, and coming up with performance plans. She gets to pick out which flags will be used and what outfits will be worn. She will not be performing with the Winter Guard unless a member is sick, in which case she will fill in, but otherwise she will be on the sidelines during performances.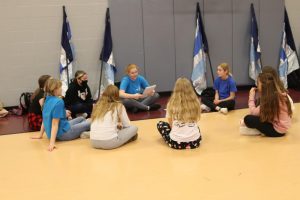 Patten cannot imagine a better coach for Winter Guard than Fluharty. "I don't know any other person who would be perfect for this," Patten said. 
Additionally, sophomore Lillian Bishop loves having Fluharty as a coach. "Sarah is a wonderfully talented person, and I love working with her."
The members of Winter Guard are overjoyed at the school finally getting a Winter Guard club. Eighth grader Mae Krapfl likes that the team will finally be able to practice more frequently. "If we didn't have it then there would just be this long period of time without practicing," Krapfl said.
Freshmen Bella Hasley and Renee Vig are also both over the moon about it. "I am so happy," Hasley said. "Lynn tried to make a Winter Guard [club] but with COVID and everything, she had to keep cancelling practices. It was so difficult for us to do it."
"I'm really happy," Vig said, "because now we get to continue what she [Lynn Burgin] started."
Winter Guard members look forward to many different aspects in the coming years. Freshman Natalie Thuerauf specifically is looking forward to meeting new kids through the program. "I'm looking forward to … in future years, seeing younger kids join, and teaching [them]," Thuerauf said. Bishop is looking forward to perfecting the partner toss with their friend, and the others look forward to performance and competitions.