The Class Pets of Mount Vernon
Parents won't allow a pet at home? Mount Vernon High School has the next best thing, class pets! From hot dog-loving turtles to moody hamsters, we've got you covered. 
Spanish teacher Jenifer Carstensen has quite a pet-friendly classroom. The first thing you'll hear when you walk in is Parsnip, the talkative lovebird. Parsnip came from a family of lovebirds of similar, vegetable-themed names. Although not native to Mexico, Parsnip is the perfect fit for Carstensen's Spanish-themed classroom. Parsnip is extremely out-going and loves to snack on seeds while perched on your shoulder.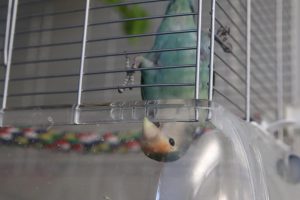 Carstensen also has two red ear slider turtles, Freida and Diego, named after the artists of the same names. "In general I just think reptiles are kind of fascinating," says Carstensen, "they get a bad rep because they're not cuddly"  this pair of funny turtles couldn't prove this statement more wrong. They love to interact with others, especially if their favorite food, hotdogs, are involved! 
In 22 years of teaching, Carstensen has almost always had a pet in the classroom. "I feel like something would be missing if I didn't have any animals in my room." Carstensen firmly believes that when pets are in the classroom environment, students tend to feel more engaged and that it becomes easier to form relationships with students once they have something to feel connected towards.  
This next furry friend resides in the art room. Michelangelo, named after the Italian artist, is a Syrian hamster who loves to oversee students working on their art projects.
Although he remains quite reserved, art teacher Bonnie Ahrens believes that Michelangelo makes quite the impact on her students. "It might be one of the things that kind of pushes them to get out of bed in the morning and come to school,"  she says.
Ahrens also feels that Michelangelo gives students a sense of responsibility that they might not have otherwise had. "Sometimes if things are getting a little too noisy or if they're being too untidy I can say, hey we need to quiet down or clean up because we need to be looking after the well-being of this hamster."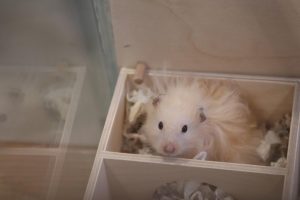 Thankfully for Ahrens, Michelangelo is a pretty low-maintenance guy. Described as introverted or sometimes moody, the key to this cream-colored hamster's heart is broccoli. So if you ever find yourself near the salad bar at lunchtime, feel free to snag him a piece!