Carson Bartelt Plays Soccer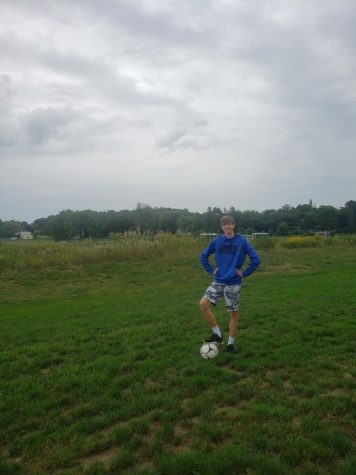 On the Tuma Field in Cedar Rapids, fall soccer leagues are starting their season. Senior Carson Bartelt has been part of the AYSO-United team since his freshman year. He is currently playing on the AYSO-United team and in the spring he will play varsity for Mount Vernon.
Bartelt is playing as a midfielder on both teams which means he is on defense and offense and does most of the passing. Every Tuesday and Thursday, the AYSO-team will travel about thirty minutes away to practice. However, as a serious soccer player, that is not the only time Bartelt practices. He will often go to Bryant Park by himself to practice dribbling the ball to be even better at the sport. Starting last Saturday, Bartelt began to play actual games with his team.
Unfortunately, Bartelt is the only Mount Vernon kid on the AYSO-United team, which means in the spring, he will have to compete against his former allies such as Springville and Marion. However, that does not stop him from making friendships and having fun.
When he was in fourth grade, he joined the AYSO team. He played through eighth grade, then in his freshman year, he joined AYSO-United. This is a team where playing soccer is far more rigorous than AYSO. To get into a team like this, Bartelt had to try out to pursue his soccer ambitions.
Ever since kindergarten, Bartelt has been on the Mount-Vernon soccer team. He decided to join soccer when his parents encouraged him to play on the field because he was " ball of energy," said Bartelt. Bartelt used to be involved in basketball and baseball, however, his need for energy directed him to focus on soccer. He dropped out of those sports because he is not a fan of standing around, rather, being active all the time was more exhilarating for him. Despite being active as a reason to stay in soccer, Bartelt favored the sport.
He said that he is naturally better at soccer because it's fun. He also likes how soccer has very few rules and he enjoys the uniqueness of it. "Using your feet is cool," Bartelt said.
Being on the soccer field is a very exhilarating experience; it is very fast-paced, and thinking plays a huge role. In the fast-moving seconds of passing the ball, every movement needs to be well thought out.
Last Saturday, Bartelt played his first series of games in a tournament where he played three games. He got to experience a little bit of everything. They won one of the games, tied another game, and lost one of the games.
On the Mount Vernon team, Bartelt plays along with a few fellow classmates Mark Liberko, Vance Arnold, and Aden Grudzinski.
In April, Mount Vernon played their best game against Williamsburg. Despite losing the game, teamwork was the real winner. In this game, passing the ball was greatly orchestrated and the communication was amazing. Bartelt believes this was personally his best game because he was able to pass and dribble the best.
Over the years Bartelt has learned and achieved so much, not only has soccer taught him how to work as a team, it has taught him a life lesson. "You can't do everything yourself, you gotta use them and work together," Bartelt said. "It helps with life because it's not just you, there are other people in your life."