Have no fear, I.T. is here
Connor Spencer reminisces on years working for the MV I.T. Department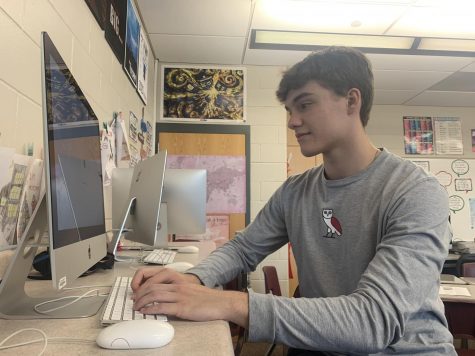 Some say there's nothing better than waking up on Christmas morning to a phone shaped package under the Christmas tree. That feeling you get when peeling back the sleek plastic screen protector to unveil the latest, hot device on the market – there's nothing like it. But for people like Connor Spencer, this is nothing out of the ordinary as he works day in and day out unboxing and setting up new devices. Spencer has been working for the Mount Vernon School District Information Technology Department for about three years now, working behind the scenes to equip students like you with devices to better impact your learning experience.
This past summer marked the third for working at the IT department in Spencer's high school career, each one more different than the past. Spencer, now a senior, started his job there when his classmate Steven Wolfe informed Spencer of an opening. A lighthearted conversation with a friend resulted in applying and eventually hitting a new milestone in Spencer's life: his first job.
Spencer is very involved with the school. Not only can you catch him shooting hoops for the basketball team in the winter, but he also runs track in the spring and lifts year round to stay in shape for whatever activity he has coming next. So adding a hefty job into the mix was something that took much consideration on Spencer's part. "I sacrifice a lot of free time in the summer," Spencer admits when referring to working when school is out. "However, the hours are still great in the summer." Spencer recalls working 25-35 hours a week during break, and then less than 10 while in school.
When Spencer started working his first shifts, it was a lot of learning from coworkers in the department. "It took me a full year to do things without somebody else teaching me how to do it first." Spencer works under the advisement of IT staff members Sean Flockhart, Tim Larson, and Jake Slusher and alongside his friends, seniors Steven Wolfe, Jacob Russell, and Vance Arnold. Nowadays, an average day in the life of Spencer's work consists of moving equipment all around the district, cleaning devices, assigning devices to students, creating spreadsheets, inventories and servers, and of course helping teachers with whatever it is they need.
Given how everything on the face of this earth has had to adapt and change its ways due to the COVID-19 pandemic, Spencer reminisces on the ways in which the tech department was affected, and still is today. With coronavirus came the age of at home learning, which meant that all students in the district needed a learning device. That paired with switching devices for middle schoolers and teachers has made these past couple of years especially busy for Spencer. "Whether it be unboxing 500 chromebooks or replacing a leaking battery in the weight room, shifts can have a lot of different things happening."
Since starting at the IT department, Spencer reflected on what he has learned from the years of experience. Not only has he learned a ton about technology and servers/networking, but also a much bigger life lesson. "Working in the summers has shown me what it's like to have deadlines and have to be able to produce good work while making sure everything is going smoothly for the first day of school." Spencer would like MVHS students to remember that "No students would have personal devices if not for us; it takes a lot of work and time to get everyone the devices they need." Spencer is planning on going to the University of Iowa or Drake to major in kinesiology.