Fencl's Fry Cook Front Lines and Absurd Track Adventures
Burning grease splashes out of the hose spraying on him. Luckily someone came to his aid as the grease left a stinging pain. It was only his first day on his job. 
Working as a fry cook at Whitey's, getting burnt was an everyday occurrence for Alex Fencl, a senior at Mount Vernon High School. Even though his "fingertips get pretty crispy" he still enjoys his job feeling content after a long day of hard work.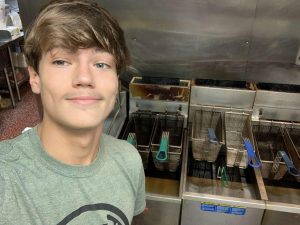 Fencl started working in mid-June and normally works around 20-25 hours in two weeks. Fridays and Saturdays are the busiest nights, with order tickets curling up.
Usually, Fencl is accompanied by a couple of other fry cooks to help man the busier nights. During one of those busier nights, Fencl was left to work all the fryers by himself. He was able to successfully manage the fryers feeling victorious, this time without spilling grease all over himself. Which became one of his proudest moments.
His normal days at work consist of frying food and cleaning up at around 8 p.m. Fencl has even made a couple of friends like Johnny and Alex along the way.
Usually, he waits for someone to tell him what to do, so he can start cooking. Even if that includes making taco salad which requires a lot of careful frying, usually giving Fencl burns. 
In addition to his job at Whitey's Fencl likes to play sports in his free time. He competes in baseball, track, and cross country, with track being his favorite.
Fencl made it to state in the 4×800 last year with a speedy time of two minutes and five seconds tying his personal best. "I gritted my teeth and kept running," Fencl said about running through the muggy heat of state.
His relay had ended up placing eighth, gaining the only point for the boy's Mount Vernon Track team.
As well as running Fencl also enjoys his great teammates and the experiences they bring along with them. One memory that stands out is a T-shirt he made with his team.
During state, the track team had gone to a mall on a non-running day and had found a T-shirt store that could make customized T-shirts.
After befriending the owner they ordered a special shirt that had Jensen Meeker's face on it. In order to get the shirts made before they had to leave, Owen Brase had waited for the shirt to be made.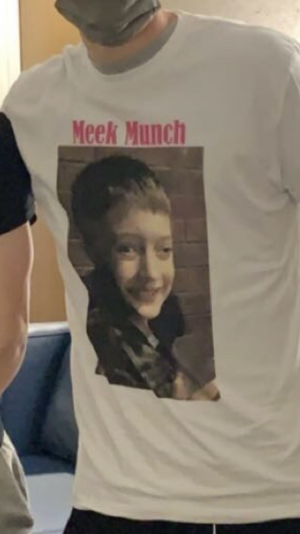 When their coach wanted them to leave before the shirts were made, they said Brase was having some stomach problems. 
To their luck, they were able to get the T-shirts and proudly wear them as they left the mall, with the track boys feeling pretty proud and giggly. This was just a normal excursion for the boys, as Fencl and his teammates had a lot of fun. Fencl highly recommends track, especially when being compared against golf.