Number 35 in the Spotlight
Erickson shares his insights on the life of a football player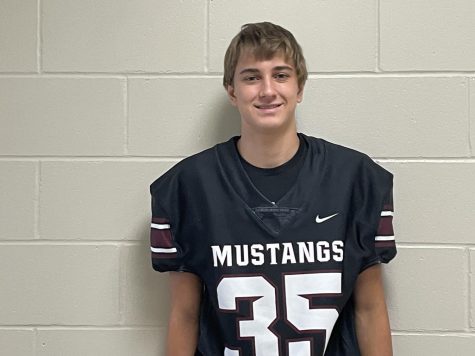 Cars are lined up for blocks. The aroma of hamburgers and popcorn fills the air. Journey's "Don't Stop Believing" is booming through the speakers into the vast stadium. The stands are filled with optimistic parents and students ready to cheer their hearts out for the pride of Mount Vernon. The Mount Vernon Mustang Football team. Although for number 35, Brady Erickson, this is just a typical Friday night in front of the crowd. 
Erickson, a junior at Mount Vernon High School, joined the football team in fifth grade, a whopping seven years ago. "I always liked watching football," said Erickson. "So I wanted to try it." 
On the team Erickson has two key roles. The first being a wide receiver which means he catches the forward passes from the quarterback. The second role Erickson plays is the defensive back which is preventing the opposite team's receiver from catching the ball. These roles are easy for Erickson to fill because, for the wide receiver and defensive back you need to have speed and quick thinking which Erickson possesses. 
Erickson said that some of his favorite times come from the tradition of the Friday night dinners before the game. Typically this is a time where the players get a chance to try and calm their nerves and get hype for the game. It brings a real sense of community and family to the team. 
There are a lot of skills needed to be a good team player and Erickson said that you need to work hard, practice, and help your teammates get better. He also said that it is key to lift each other up and encourage teammates to do their best. Erickson does this during practice by helping his teammates work together with kind words. 
There will always be a time in your life when you feel like giving up and for Erickson it was his freshman year. "It's not fun being a freshman in high school football," said Erickson. "You have to go against the upperclassmen and it's not great." 
Untimely Erickson decided it was best for him to continue playing football, and boy is he glad he did. 
Stress and anxiety play a major role in many people's lives on a day to day basis. Erickson said he manages these emotions by listening to music and clearing his head, before each game. 
This year the Mount Vernon Mustang Football team has nine games total, five that are at home uptown at the First Street Building, and four away. The first game was Aug. 27 at Anamosa, where the team won 47-12. The second game was home against Solon on Aug. 3, where Mount Vernon lost 27-41. And this past Friday, The Mustangs beat Tipton 49-0. 
This is now the 19th year the Mount Vernon Football team has lost to Solon. However when Erickson was a freshman on the junior varsity team they beat Solon's junior varsity team. This gives Mount Vernon hope for next season's match against Solon. 
Football is, and always will be, a big part of Brady Erickson's life. Although he has no current plans of playing football after high school, he still loves the sport nonetheless. 
Catch Erickson tonight at the First Street building for the game against Center Point-Urbana at 7:15 pm.