Top Five Teachers at Mount Vernon High School
The teachers at Mount Vernon High School have a strong connection with their students. A survey conducted by The Mustang Moon on Nov. 1 had 65 students respond to the question of who is their favorite teacher. Below are the top five. 
5.) Ed Timm is going on 17 years at Mount Vernon. He teaches U.S. History, World History, Political Science, and is head coach of varsity boys basketball. Timm is known for his sarcasm but mainly squirting students with his spray bottle. He is excellent at intimidating freshmen, his specialty. "I love his sense of humor," said senior Elijah Webster. "It's a unique way he shows how much he genuinely cares."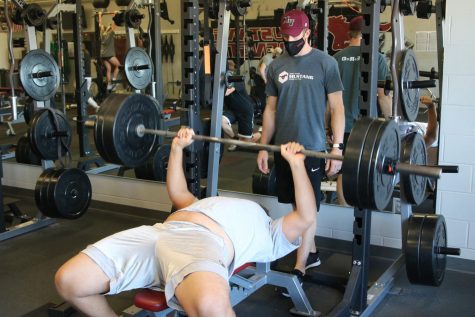 4.) Preston Pedersen has grown some freak athletes in his weightroom such as Tristan Wirfs and Jack Cochrane in his five years at Mount Vernon. Preston is known for his positive attitude and caring for his students. He is super encouraging and it reflects on his students. "He always greets his students with a smile and genuinely cares about his students," senior Kayden Pendergrass said.
3.) Derek Roberts, is in his second year teaching math and science at Mount Vernon. Roberts has quickly gained student popularity. Roberts is known for his ability to connect with other students. He teaches biology, applied math, algebra, and helps coach basketball. Senior Jonathan Loughren said that hetook every class he could with Roberts because of his laid back style.Junior Ashlyn Steen agreed saying "He pushes you to be your best and still manages to be chill."
2.) Ben Kuker is the second longest lasting teacher on this list going on 13 years at Mount Vernon. Kuker is the shop teacher at Mount Vernon which has a wide range of classes from Auto mechanics to Electricity and plumbing. He is known for having a great connection with his students and is very good at guidance for your future. "Metals class is so fun, welding is great especially with him teaching it," Freshman Jayce Pendergrass said. 
1.) Michaela Just, is in her second year at Mount Vernon and she has already stolen the hearts of MV students. Voted favorite teacher by high school students, Just teaches earth science and Chem 1 at Mount Vernon. The students she teaches have nothing but good things to say about her. "She was very understanding of everything and did an amazing job explaining things if we had questions and was always there to help," said sophomore Kia McNeal.