The Esports Journey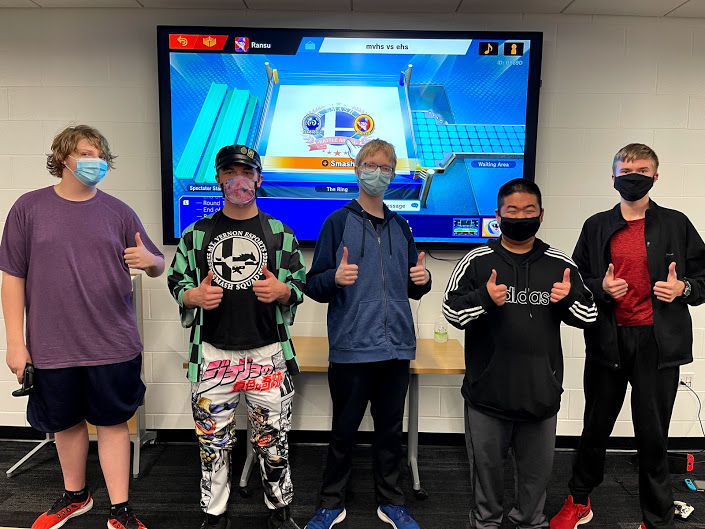 The Esports story began in August 2019, and I'm proud to be part of it. It all started when senior Jasper Rood heard the click of the announcement button followed by words that offered an opportunity. Esports was being offered to area schools. That announcement  pushed the first domino letting the others fall into the future. "When I heard the announcement I was shocked more than anything. Esports on the highschool level sounds unthinkable in a school whose primary focus is athletics," Rood said. "I felt we could throw a team together. It would be difficult but we could do it."
It came with a caveat though, Rood and his friends had to set everything up in just 10 days. They didn't really know why they had so little time. "We had less than a week to get a team together," Rood said. "The lack of planning on the league's side was impressively terrible. We were very worried we wouldn't have a team together. But in the end we were able to throw a team together in the final stretch,"  he said. Activities Director Matt Thede told students if they were interested in it they had to come by his office to get the packet for it. 
"I honestly thought it was going to die out in a week or so," junior Eli Krob said. "I knew we had players, I just wasn't sure if we were going to have the commitment or resources to consistently have a team. I was glad when I realized it was Jasper, Lance, and I, because I knew the three of us were going to have the commitment needed," Krob said. This was when "The Big Three" was formed to work together and do behind-the-scenes work, like the esports shirts and tryouts.
By this point the new team had four people but they needed at least five to create a varsity team. They knew two other titans of the game, Adam Vig and Elijah Webster, who at the time played under the names Jigglypuff and Little Mac respectively. The team had another piece of the puzzle. Vig had a goofy personality to go along with his goofy character, one in the same really, while holding plenty of intellect. In contrast, Elijah was smart, calculated and insane at the game despite literally playing the worst character in the game. 
The group only needed one last thing: A teacher sponsor or someone to schedule and supervise. I was meeting with Philp Weaver, they were doing a spreadsheet on a computer in Mr. Murry's room to decide who should be on varsity and who should be on JV. It was quiet and the room made the perfect place to fry the brain on big decisions. That's when Thede came in with the other holy light of this story. 
Custodian Spencer Schmidt  ('11 ) is a younger guy who had a love for video games. He seemed to be the perfect fit to organize a group of kids who had formed the first esports team at MVHS. The team had a two-day deadline to find an adviser,  while work still needed to be done like sending in the teams to the league and times to play in the competitive matches. "It seemed like something that I could help with. I do play some video games which helps a little. Plus it will always be a growing thing," Schmidt said. So he agreed to do it.
The first competition was against Davenport Central, the strongest team in the whole league. The Mount Vernon Smash squad lost their first competition. It was crushing but they didn't give up; they used it as a motivation.
Every week the Varsity team changed due to Varsity challenges. Those matches were 3 of 5 games. "I just remember how crazy it was," said senior Elijah Webster. It was like friendly competition at its most intense. This was something we were all passionate about, but we were also all passionate about enjoying the game and doing it together. So, while it was certainly competitive, it was always with a friendly spirit, which was the best part," he said.
Ever since week one, the esports team didn't lose a match until the finals with Davenport Central. The team would update teachers and other students. They told social studies teacher Ed Timm about a competing school called West Fork. "You better not lose to a utensil," was his quick reply. Competitions were played online around 4:30 p.m. in Mr. Murry's room. 
The group learned after week one, noticing their own flaws, adapting and improving. They gave tips to each other and practiced together. The kids coached each other, with Spencer Schimdt supporting them, doing all the background work.
On the night of finals the esports team invited Davenport Central to the school to play in person so no one had to deal with lag (harder to do inputs) like they did during the entire season. That is when the entire MVHS Esports team greeted Central with "JoJo poses" which was a huge meme from the anime called "JoJo's Bizarre Adventure."  The Esports team lost twice throughout the whole season to Davenport Central placing Mount Vernon in second place.
The esports team is still going strong in 2020. Rood changed characters, now playing "Terry," and Logan Eriksen takes time away from "Yoshi" to focus on "Ganondorf." The group is still successful even though they have to deal with COVID-19 and top players like  Vig and Webster can't play due to time constraints. Speaking of time, competitions were moved from 4:30 p.m to 4:15 p.m  But a new fighter enters the ring, his name is Noah Pisarik, a freshman with powerful skills and abilities. "I wanted to join esports for one main reason, I would get to play my favorite game semi casually at practice with real people and without the stress that comes with competitive tournaments," Pisairk said. 
The Esports team made it to the finals but unfortunately lost to East High in Waterloo going 8-1 over all on Nov. 19.