Top 5 Lunches at MVHS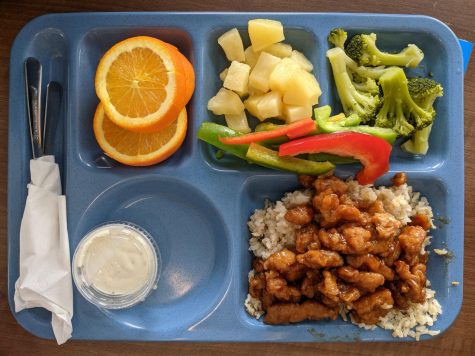 When it comes to Mount Vernon's food service, quality has always been high. Beginning last year, the high school added many new options and replacements to the hot meals served. The lunch staff works hard to ensure a hearty amount of food is given.
This brings a question into play – what exactly IS Mount Vernon High School's favorite meal? Students across all four grades were polled through email.
#1. Orange Chicken 
Coming in at number one, Mount Vernon High School's favorite lunch is orange chicken.
Adam Deeb, a junior, said, "It's a nice tender chicken that packs a mean kick, and goes great with the white rice. What can I say, the orange chicken goes hard!" 
Orange chicken comes with whole grain rice, freshly steamed vegetables, and fruit.
It's no surprise that this is the overall favorite – some even compared it to Panda Express' meals.
#2. Chili Crispito
Taking the second spot, chili crispito is another enjoyable meal in the school. 
"My favorite part is how crispy it is." Lance Eriksen, a senior at MV said.
This dish packs well-spiced ground beef into a thin, crisp tortilla. It comes with tater tots, vegetables, and fruit. 
#3. Walking Taco 
Coming in third, walking taco has been loved by many students for years. 
"I like this lunch menu item because it was the one thing I always loved eating as a kid. I was always picky about the things that I ate as a kid," Elena Gonzalez, a senior at MV said.
The walking taco comes with a bag of Doritos, ground beef, sour cream, tomatoes, lettuce, cheese, and salsa. 
#4. French Toast Sticks 
In fourth place, french toast sticks never seem to disappoint. 
The sweet, crisp, and delicate main dish pairs nicely with the sausage, eggs, potato triangle, and fruit. This meal is also a great option for vegetarians. 
Leah Kaminsky, a senior, said, "As a person that doesn't eat breakfast very often, it's nice to have this option."
#5. Stromboli 
In fifth place, stromboli is a savory must-have. 
"Back at my old school, I had never tried Stromboli before. When I moved to Mount Vernon, it was in the first week of my new school we had it, and it became my favorite. It's super good, and my favorite part is the delicious bread they use for it" freshman Kayleigh Kirton said. 
Lunch is an enjoyable experience for many high school students due to hot food and a break from schoolwork, but what exactly happens behind the scenes? 
Marsha Purington, the director of the lunch staff, explained what it's like working to feed hundreds of hungry teenagers. 
"We have certain guidelines we have to follow. We need a meat or meat alternative, a grain, fruit, vegetable, and milk. Students have to choose at least three of the five."
When asked what her favorite part of being in the kitchen is, Purington explained that she enjoys feeding and providing sustenance to students, and has always had a love for food due to her parents owning a restaurant when she was a child. 
Due to the spread of COVID-19, the kitchen is working hard to maintain a safe and clean environment for students. Instead of grabbing your own items, the lunch staff hands out the main dish and sides. The school also decided to make breakfasts and lunches free to students to ensure everyone is fed during the pandemic. Some students chose the remote learning method, so the lunch staff hands pre-packaged meals out to those at home. Another improvement is a second lunch line added in the commons to assure that students receive meals in a timely manner.