Top Five Social Media Platforms at MVHS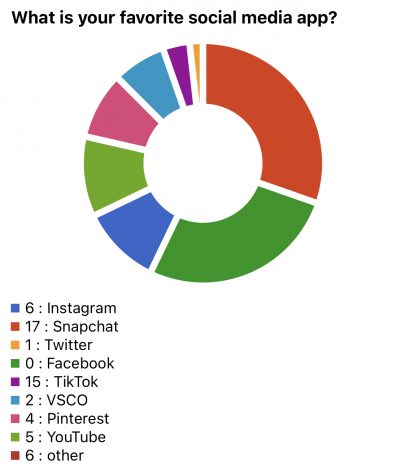 **Your screen time is up 20 percent from last week** According to techjury.net an average person uses social media apps around 144 minutes every day. In a week you would have been on social media apps for approximately 17 hours. There are tons of different forms of social media apps, some solely for videos, like YouTube or TikTok, or apps that use both photos and videos such as Snapchat or Instagram. Mount Vernon High School students were polled over email on which one of the social media apps were their favorite, and 56 responses came in. Which app do you think made it to the top? 
#5 Pinterest
Coming in at fifth place was Pinterest, with 7.1 percent of students saying that Pinterest is their favorite app. Pinterest allows you to organize and keep track of posts and ideas you see online. "The creativity allows me to see things I am interested in a way I never thought of them before," junior Jaden Houghtaling said. "I can customize my feed so I only see things that interest me and nothing inappropriate. I can also get fun and crafty ideas for projects and new hobbies." Creating new boards lets you easily find what you're looking for after you previously saved it. Keeping your boards secret allows you to be the only person who sees them.
#4 YouTube
YouTube comes in at fourth place with 8.9 percent of the vote. Since it came out in 2005, people have been posting videos to YouTube of all varieties. How to's, funny fails, educational videos, and much more can be found on YouTube. Like Pinterest and many other apps, you can post videos on YouTube publicly or privately for only certain people to see them. Account pages allow you to easily find the videos you want to watch with different headings like "recent" or "pranks" available. YouTube also does not require you to have an account like some social media apps do. The most viewed video on YouTube is "Baby Shark" with 7.04 billion views. Senior Leah Kaminsky said, "I use YouTube for music, entertainment, as well as informational videos."
#3 Instagram
In third with a 10.7 percent is Instagram. Since 2010 people have been using Instagram on a regular basis. Instagram allows you to post pictures and videos both publicly and privately. The explore page is tailored to posts you like so you only see what you're interested in. Instagram has a wide range of settings options that you can use to organize your page. "Most of my friends live in Cedar Rapids so I don't get to see them often, we use Instagram to stay in contact," said freshman Kaylee Gates. 
#2 TikTok
Coming in second place with 26.8 percent is TikTok, the newest app of the five. Created in 2016 TikTok is a social media platform that allows you to post videos of various lengths. With different sounds and filters the app has endless possibilities. "There are many different types of videos on the app, it's not people posting the same pictures over and over again like Instagram, and not just streaks like Snapchat. There's a variety of videos and the app keeps you entertained," said junior Sarah Homrighausen. Right now the most liked video on TikTok has 40.2 million likes. 
#1 Snapchat
Coming in number one with 30.4 percent is Snapchat. Snapchat was created in 2011, and allows its users to send videos and photos with different filters. Snapchat users can show their friends what they are doing and where they are with stories both publicly and privately. Snapchat users can also video call, audio call, and chat with their friends over this social media platform. "You can talk to and see your friends in case you are not able to see them in person," said freshman Jayce Pendergrass. 
Social media is used by most of the world. It is people's way to communicate and keep in contact with old friends and classmates. Without social media people wouldn't be able to do these things, therefore possibly not seeing people again after high school or college. Social media provides us with useful information also, such as how-to videos on a variety of topics. These media platforms help us go through our day to day lives.