Homecoming Hypnotist Entertains Students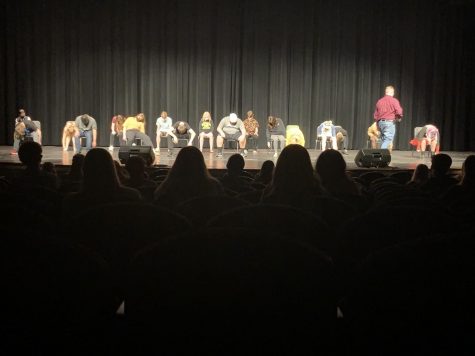 The amazing experience of hypnosis will leave you feeling rejuvenated and well rested. Mount Vernon High School students who attended the 2020 homecoming were left astonished after the hypnosis show in the Performing Arts Center on Saturday night. 
Lauren Swartzendruber, a junior, said her favorite part of the hour-long show was "probably when they had the dance competition." Cory Osborn, the hypnotist of the night, did a series of different things with the students who volunteered to be hypnotized. From playing instruments in a live orchestra to dance competitions, and all while maintaining social distancing, students had a great time. 
Osborn had the volunteers stare at the ceiling watching the funniest and the scariest movie each of the students had ever seen, moments later the room filled with laughter one minute and screams the next. "I really enjoyed the Kentucky Derby part of the show when they found out they all won one million dollars," said junior Anna Moore. 
With the night almost coming to an end Osborn wanted to give the volunteers something to help them with whatever they might need. Whenever the volunteers now look at an object of their favorite color they will become overwhelmed with a feeling of joy and happiness. Osborn said this will happen for however long their subconscious minds think they need it. 
Due to the coronavirus, a homecoming dance was not held this year, but the school provided the alternative entertainment of a hypnotist, movies, and games on Saturday evening for the cost of five dollars.