JV Volleyball Team Wins Against Beckman Catholic at the JV Invitational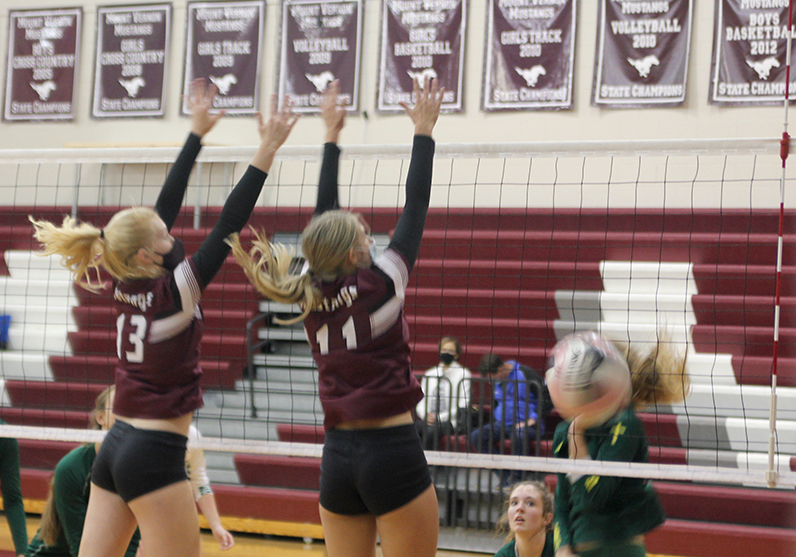 Isabel Klawiter
October 8, 2020
Mount Vernon JV Volleyball team played their opening game in the JV invitational hosted at Mount Vernon High School on Oct. 5 at 5:30 against Beckman Catholic winning 2-0, completing sets at 21-19 and 21-17.
During the game the Mustangs "played really well and executed against their patterns," said senior opposite right side hitter Danielle Pitts, who led the team with the most kills with a total of five.  She also had three block assists and two digs to finish the game. 
Starting the game off strong, Mount Vernon led against Beckman, who was close behind throughout the game, becoming "our closest competitors," said junior outside hitter Piper Price. For the entirety of the volleyball game, players "continued to communicate, talked on the bench, and worked as a team," said Price, motivating the team to take the win against Beckman Catholic. 
Ending the game, senior Kiki Blythe finished the game with an amazing three serving aces in a row helping achieve the lead. By the end of the game, Kiki played back row as Libero and had a total of five digs. 
With many Mount Vernon supporters cheering on the players, the JV volleyball team "continued to practice keeping our focus and continued working on our teamwork," said junior defensive specialist (ds) McKenzie Rentschler making one ace and five digs.  
The JV season ended on Oct. 6,  but the varsity continues to play with the next game on Oct. 10 at Cedar Rapids Jefferson High School at 8:30 am.