Mustangs Take The W On Volleyball Senior Night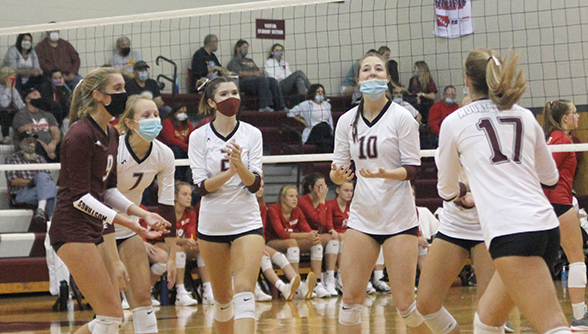 Remy Merrill
October 8, 2020
 Mount Vernon high school volleyball girls fought for the win against Marion in four matches with scores of 25-17, 22-25, 25-23, 25-14. The Mustangs started strong and gained momentum as the night went on. "We knew we were facing a very talented and well-coached team in Marion," Coach Maggie Willems said. 
The spotlight was on Mount Vernon's 10 volleyball seniors for senior night Oct. 6. Senior Lauren Schrock led in kills for Mount Vernon with a total of 15, followed by a tie between seniors Camryn Ellyson and Natalie Welch with 10 kills each. "We came out with a lot more energy tonight and that helped get us off to a strong start in the first set," senior Rachel Axtell said.
The Mustangs' energy was a vital piece in coming out victorious against the Marion Indians. "We really celebrated for one another and with one another, creating an outstanding synergy, which leads to more success," Willems said. 
Sophomore Kameron Brand scooped the most digs with a total of 21 throughout the game. Followed by senior Sydney Dennis with 17 digs. Sydney Dennis also supported a large number of assists with a total of 38 setting up for kills that gave the Mustangs an advantage. "Our athletes were able to identify their patterns and respond defensively and offensively to make plays we knew would work well for us against them," Willems said. 
Senior Lauren Ryan had 15 successful serves and 1 ace. Jorie Randall also served 10 successful serves and accomplished 2 aces. 
Marion put up a fight with defensive strategies that gave the Mustangs a challenge. "Marion is a very good defensive team and I think our offense really stayed focused and steady all night," Rachel said. 
All 10 of the seniors played a night to remember for their last volleyball season as a Mustang. Mount Vernon's varsity volleyball girls added another win to their 19-5 record.