Extracurriculars Should be Treated Equally with COVID-19 Happening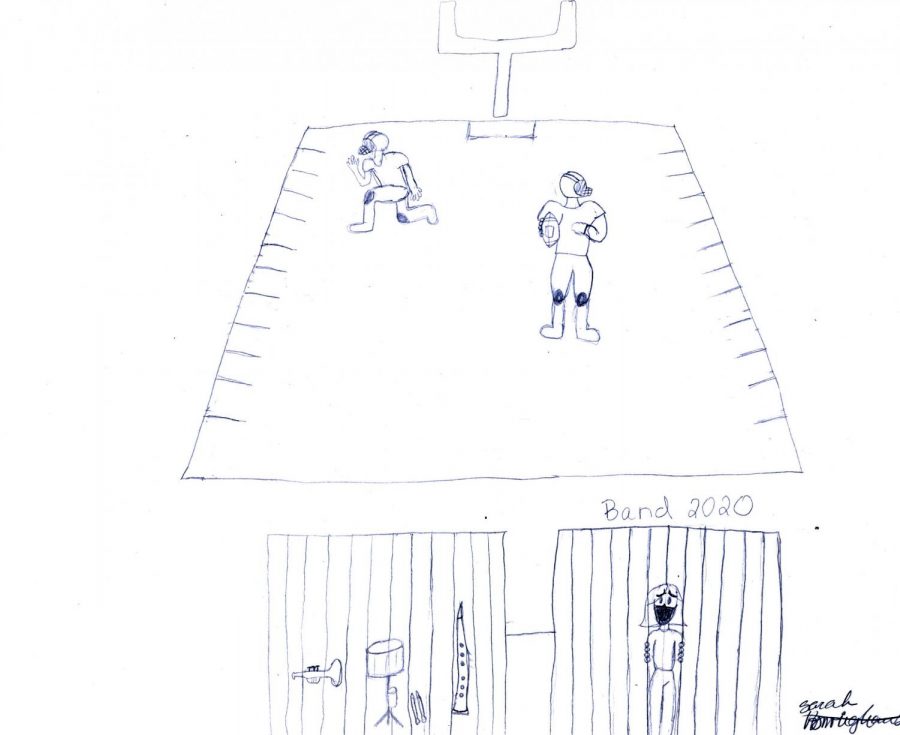 Mount Vernon High School is known for its fine arts, athletics, and academics, so it's no surprise at all that we as a community have continued to fight through the pandemic.
With Covid-19 happening, many extracurriculars this year have been limited or canceled. Thankfully, the community has accepted and learned to adapt to these changes. The Mount Vernon Marching Band faced many challenges in finding a way to continue the season since statewide competitions were canceled and marching was no longer considered an option, but compromises were made. The football team continued to play. These extracurriculars need to be handled in an equal manner… this year they were not.
Marching band became a stationary, socially distanced practice with members playing but not marching as the compromise, yet the football players continued to come in physical contact with one another. This caused two positive cases to erupt on the team. In turn, the consequences are being suffered… but not only by the football players. Students not in football who sat near the positive testing players were forced to quarantine and miss out on essential learning opportunities in our high school. Football went right on, still being played after the appropriate amount of time was given for the COVID cases to quarantine. 
If football, a physical sport can be played, why can't we still be at competitions where we would assume less risk to social distance and play our music? The marching band has experienced zero cases throughout our compromised season. We have worked very hard just as the football boys have, and our seniors aren't getting to experience the last year of competition. Some claim the competitions are what make the practice worth it in the long haul.
This brings one question into play — what will happen with winter extracurriculars? Will things such as speech or jazz choir also have limits or be canceled and other activities, such as wrestling, continue on as normal?
Changes need to begin to be made. Although the spread of COVID-19 is ultimately inevitable, if the fine arts season is going to be canceled, sports should have been ended as well.