Klinkhammer 'the teammate everyone wants'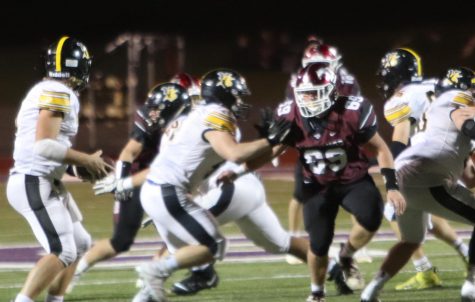 The Mount Vernon football team is on a roll this fall with four wins and no losses. In the middle of this success is defensive tackle Connor Klinkhammer.
Named scout team player of week one, Klinkhammer is an absolute menace on the field. He is confident the team will go 7-0 this season. "Offenses are scared when this defense walks onto the field," he said. Klinkhammer thinks the Mount Vernon football team is the toughest team in the state.
Klinkhammer, a senior, has a solid three tackles on the season and his coaches are glad that he joined the team this year. Head coach Lance Pedersen thinks he is a great addition to the football team. "He has worked extremely hard during the out of season and is making an amazing contribution to our football team," Pedersen said. "He is very coachable, has a great attitude and works hard every day in practice to get better."
Klinkhammer attributes much of his success to his D-line coach, Preston Pedersen. Klinkhammer said that Preston's refuel model and weight training helped him out tremendously with gaining weight and strength for the football season.
"Connor is the teammate everyone wants," coach Preston said. "He is selfless, funny, a hard worker, and maybe the coolest thing about him is that he makes everyone better around him. I'm thankful that I get to be around him each day."
Klinkhammer said that he is proud to play with his teammates. "I couldn't ask to be playing aside any other group of guys," he said. "They are the most hardworking people I've ever played with in any sport. They make me better every day."
The team is working together to stay safe and healthy. There are safety regulations added into football to keep the players from spreading Covid. The players have to be spread out during warmups, they have to wear masks to watch film, and they have to sanitize every piece of equipment they use during practices and games. One tradition the players will miss is team meals on game days.
The Mustangs (4-0) play the Union Knights (0-4) at 7 p.m. tonight at Cornell field. If you decide to go, watch out for the stone cold defensive tackle with the number 69 on his back!