Softball Season Treasured by Players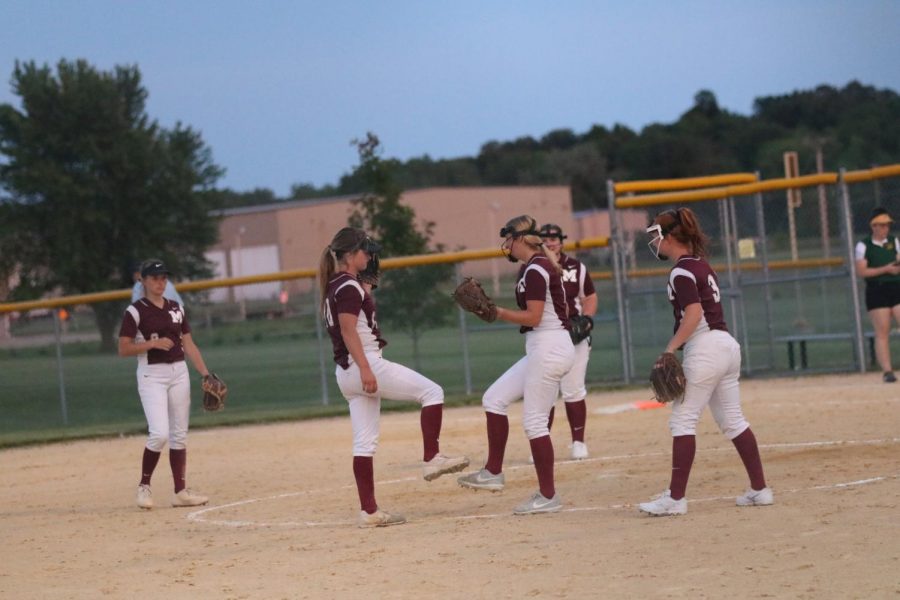 The softball team is grateful for each game they get to play.
This year's season has looked a little different than past softball seasons because of the pandemic. "Our team is taking extra precautions such as using our own balls and bats, using hand sanitizer, trying our best to maintain social distancing during practice and around those who are not on our team, " said junior Lauren Ryan. The team also has morning temperature checks to ensure no one is sick. 
Another thing that's different this year is the softball team traded their usual high fives for foot fives, kicking their feet together at the end of a good play. "We've been giving foot fives when someone makes a great play or has an awesome hit. It's a little weird, but we'll do whatever we have to in order to keep our season going," said senior Summer Brand.
"One of my favorite things about this team and this season is how special each day feels," Brand said. "We understand that our season can be over the next day, so each day we get to spend together is special and something we don't take for granted."
After all of the spring sports were canceled it was unsure if summer sports were going to be allowed this year."This season is special because we didn't know if we were going to have it." Ryan said. "Each day, Coach reminds us to be grateful for the opportunity to be able to play. So even if we are put through a really tough practice, in the back of our minds we realize it's not something we have to do, but get to do."
There are six seniors this year and every one of them is grateful that they get to play. "I am really thankful that we were able to have a season this year because of the senior class. It would've been hard on all six of us if we wouldn't have gotten the opportunity to play after the amount of time that we've played together," said Brand. "The way that our senior year of high school had abruptly ended kind of left me wanting more, so the fact that I was able to finish off my senior year playing softball with a great team felt really nice."
The softball team couldn't be more grateful to be on the field playing with their teammates. "I am really happy to be able to play softball this year and love seeing my teammates each day; it makes this unusual time a little more normal, " said Ryan.
Even though the team is separated by distance and safety precautions, they are closer than ever because they know that every practice and game is a blessing."It's been one of the most enjoyable seasons because we all realized how special it is, " said Brand.
No. 4 3A Mount Vernon plays West Branch at home tonight at 7:30.