Boys Basketball Team Road to State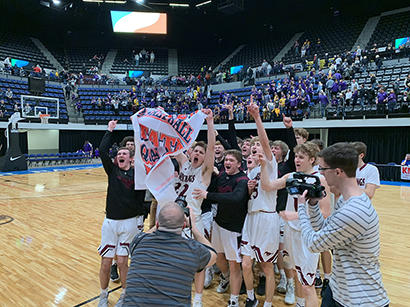 The Mount Vernon boys basketball team makes their way towards state in the 3A division, ranked first in their division. The team beat Central Dewitt 52-50 in regional finals on March 2.
"I was confident that we would find a way to come out on top no matter what adversity was thrown our way." Senior Nolan Brand said. "We've had our backs to the wall multiple times, facing elimination games during our conference run, and the district final against Dubuque. We managed to come out ahead in those games, so we knew we always had a chance."
Winning regional finals seemed unbelievable to Brand. "It felt incredibly rewarding to know all the hard work and time everyone has put in has paid off." Junior Keaton Kutcher made the winning shot in the final three seconds of the game against Dewitt.
The next move for the boys team is to play in Des Moines Tuesday, March 10 at 2:45 p.m. for the quarter finals against Clear Creek Amana. The pep bus taking students to the game leaves at noon, and classes will be on a shortened schedule. With the incredibly supportive student section, and parents the team has had all season has given them a lot of hope, especially with the community supporting them through their journey to state.