Schrock: Coming From the Darkside
Brady Ketchum
November 14, 2019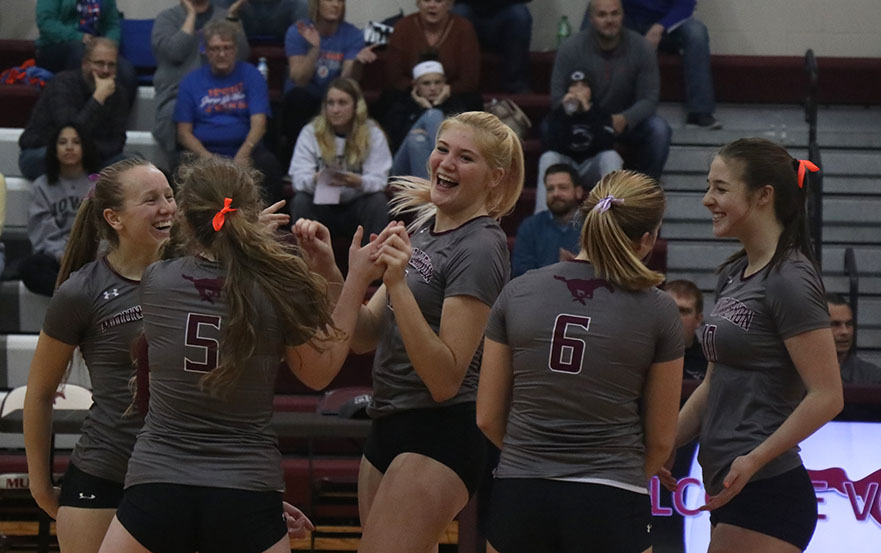 Lauren Schrock went from being the star player at the rival school nine miles south of Mount Vernon to becoming an extremely important player for the Mustangs. Everybody who follows Mount Vernon volleyball knows who Schrock is and they also know that just a year ago, they were rooting against her, given the different circumstances. Schrock's last game with the Spartans was coincidentally against Mount Vernon in the playoffs when Mount Vernon dominated, sending the Mustangs deeper into their state playoff run. 
Most people would never transfer to their rival school to play for them, especially losing your last game against that very team, but Schrock, a junior, looked past the rivalry. She looked more into what would give her the best opportunities as a volleyball player and where she would have the most fun. Some of the opportunities presented to her at Mount Vernon that she wouldn't have had at Solon were a chance to make a run in the state tournament, where she would be exposed to the coaching that would make her the best player she could be and also a winning culture. 
Schrock explained the difference in cultures and work ethic between the two schools by saying," At Solon, when you go to practices, you don't want to go. You're just going there because it's a practice. But at Mount Vernon, everyone goes and works hard." She said that summer speed and agility also helps with the effort and ability of the team. "At Solon people just went because they had to but everyone at Mount Vernon really wants to work hard."
Another big reason for Shrock's departure from Solon and transfer to Mount Vernon was to have fun. "I just wanted to have a happy season and make a lot of friends. Really just enjoy playing," Schrock said. 
Schrock has certainly made the most of her opportunities here at Mount Vernon by leading the team in kills and bringing a bolt of energy everytime she steps on the court. "Everytime she steps on the court I just know that she's going to come up with a big play and get us some points. She has been clutch this year," said Mount Vernon volleyball superfan, Trevor Ellison. She not only leads the team in kills but is also eighth in Class 3A in kills. 
Schrock has battled through a lot of adversity this year from coming to a new school where you don't know a ton of people to trying to find chemistry with her new teammates. "At the beginning of the season I wasn't close friends with a lot of the people on the team but once I got to know everyone then we started clicking and it definitely made it easier to build trust with your teammates. Schrock will try to carry that chemistry and dominance into the semifinal game against Union on Thursday.