Marching Mustangs End Successful Season With Indoor Finale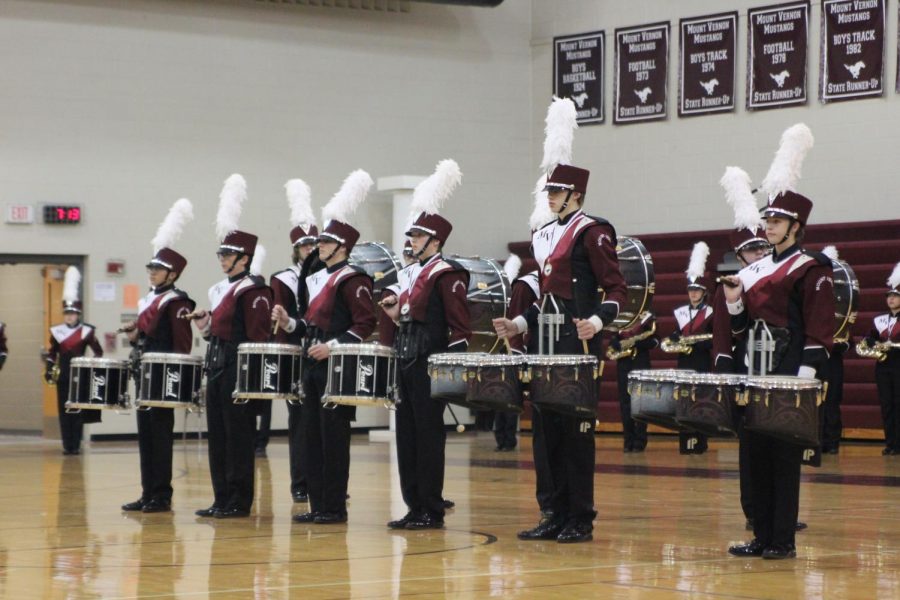 Kai Yamanishi, Editor
November 7, 2019
The Marching Mustangs ended their highly successful season with their indoor finale in the high school gym on Oct. 24. It featured a full musical run through of their halftime show, as well as a surprise segment at the end where they actually marched part of the finale inside. It was a stirring end to their most successful competition season in decades.
The band finished the season with two first place trophies, a division one rating at state competition, and a second place trophy, as well as a healthy collection of caption awards. As with any sport though, this success did not come without hard work, and represents the culmination of six months of work by over 100 students in the band, starting all the way back in May with sectionals and workshops done by the percussion section and the color guard.
"[The drumline] meets almost every week, and they had two camps over the summer. "Our drumline and our colorguard work their butts off, " said junior clarinet player Sage McVay.
All of those extra hours led to phenomenal success, with the drumline winning two best drumline caption awards, one of them against the drumline from Independence High School at the last competition of the year, which won first place at a nationwide competition earlier in the season. 
Senior Ty Fall, who played marimba in the drumline, said that it was "really gratifying" to have all of their hard work recognized by the judges. 
Why was this year so successful compared to past ones? McVay said that she thought that is was because all of the band members this year "bought in" to the program, and worked together well. "We're a family … I feel like I could go to anyone with my problems and they would listen."
After their extremely successful season, the band is now transitioning into concert band, and hopes to continue their momentum into the rest of the year. They are planning on attending at least one concert band competition, a first for them.