Basketball: A Lifestyle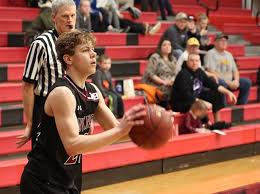 Keaton Kutcher, a junior at Mount Vernon, started playing basketball at a very young age. His love for the game started off with something as simple as playing on a mini basketball hoop and playing in his driveway. It then led to playing in the YMCA league with some of his friends, to playing tournaments, to middle school basketball to finally, high school basketball and Martin Brothers (AAU).
Playing varsity basketball has been very good for Kutcher, being able to play since he was a freshman. Playing a varsity sport as a younger player can be very intimidating but also very beneficial because a lot can be learned from some older and more experienced players. Kutcher chose to make the most of his opportunity by averaging 20.5 points which led the team. He also had 23 steals which led the team and 46 assists which were second. "It was a really good experience learning from some of the older athletes in the school like Drew Adams ('18) on how to be a good leader on and off the court, " said Kutcher. 
Something that Kutcher would like young players on varsity to know is to, "keep your head up and try to stay focused on helping the team as much as you can."
Another great opportunity for Kutcher came this summer, playing for Martin Brothers, one of the best AAU teams in the country. He traveled all over the country competing against some of the best teams and players. He went everywhere from Indiana and Minnesota to Atlanta and Las Vegas and met some big-time players, one being Zion Williamson, the number one draft pick in the NBA this year. He would be gone for days or even weeks at a time. At one point, Kutcher was gone for two weeks, playing in Atlanta. For most 16-year-olds, this type of summer would be ruthless draining, but this is exactly the type of experience Kutcher wants to help him be the best he can be.
Playing against such high competition can bring out the best in players and elevate their abilities to peak performance. This is exactly what happened with Kutcher. Playing with and against such talented players has helped his skills to be the best they can be. He hopes his AAU experiences can help him have another dominant season as a guard for the Mustangs this year.