Catch and Run
Collin Swantz
September 20, 2019
Aidan Nosek is a 6'3" 190-pound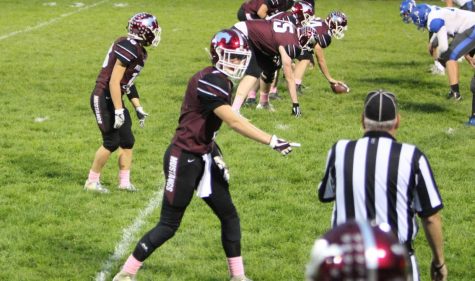 tight end as well as a defensive tackle. The 2019 football season will be Nosek's junior season. In 2018 Aidan was a starting wide receiver for the Mustangs. He racked up 12 receptions for a total of 76 yards. 
Nosek started playing football in third grade because it was the first year of tackle football, but he did not start taking it seriously until about the seventh grade because he realized he was bigger and faster than most of his opponents. Once he got up to the varsity level he came to the reality that there were other kids his size and speed so he needed to get stronger and faster along with them. 
Over the summer, Nosek went to extreme lengths to get to where he wants to be, from working out every day to changing his diet to gain weight in a healthy way. After speed and strength training in the morning and baseball in the afternoon, Aidan typically ran routes with teammate and quarterback Brady Ketchum. Nosek believes that strength and speed coach Preston Pedersen made a huge impact on his physical ability. "Coach Pedersen has really helped me throughout high school either in the weight room or on the field. He is always explaining things well and bringing lots of energy," Nosek said. He attended three college football camps, Iowa, Iowa State, and was invited to a camp at Grandview University in Des Moines.
 He attended the camps to gain exposure from not only the university's coaches but coaches from other colleges who came.  During the season Aidan stays late to run routes with Ketchum after a tough practice. He is going to get one percent better every day because the little things add up in the future.
Nosek's freshman year of football he was Ketchum's number one target. "Freshman football was very fun. It was a lot different than middle school football. The practices are more intense, but the games are more serious and a lot more people show up for them," Nosek said.
"Making the switch from wide out and linebacker to tight end and defensive tackle has been tough, but I believe it is the right move for our personnel and team," Nosek said. The Mustangs are ready to face district play head-on against West Liberty.