The Life of a Swimmer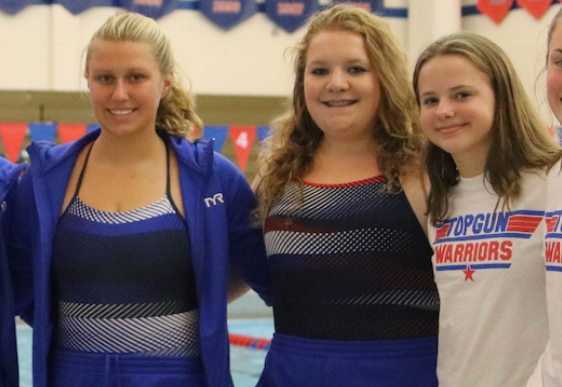 Michaela Rowell transferred to Mount Vernon High School last year. Rowell, currently a junior, always seems to have something to do. She participates in many school activities such as cheerleading, concert band, and marching band. Outside of school, she is in 4H, works on the farm, and shows rabbits. But her favorite activity is swimming. 
Rowell has been competitively swimming from a young age. She's done club swimming most of her life and is currently swimming for Washington High School with a varsity spot. Of all the strokes available on the team, Rowell's favorite and best are backstroke and freestyle. One of the biggest rivals to Washington is Dubuque Wahlert; it's always a tough competition against Wahlert that leads to an intense meet to try and win as a team. Whenever Rowell's team wins, she always feels great and it brings her even more motivation. 
Since the young age of 5, Rowell has been swimming competitively and for fun. Rowell was motivated by the dream of going to the Olympics, and by her role model, Micheal Phelps. Rowell isn't motivated just by those things, however. She dreams of constantly improving and loves putting in the hard work towards swimming.
Rowell knows she is fortunate to be a swimmer and said her swimming education has taught her about the widespread dangers of drowning. "When someone drowns one of the main causes of it is that they didn't know how to swim, so I believe everyone should learn how to swim," said Rowell. 
Rowell has become a stronger person because of swimming, it's taught her to always try her best and that there's always room to improve. Rowell also feels its made her emotionally stronger and taught her discipline and to always be confident.
Rowell's passion for swimming has been there throughout her life and she encourages everyone to try swimming just for fun, the sport, and even the competition. "I strongly feel swimming has positively impacted my life, I've made many lifelong friends through swimming and I've become a stronger and more hard working person," Rowell said.