Matt Vislisel Uses Past Successes as Motivation During Senior Throwing Season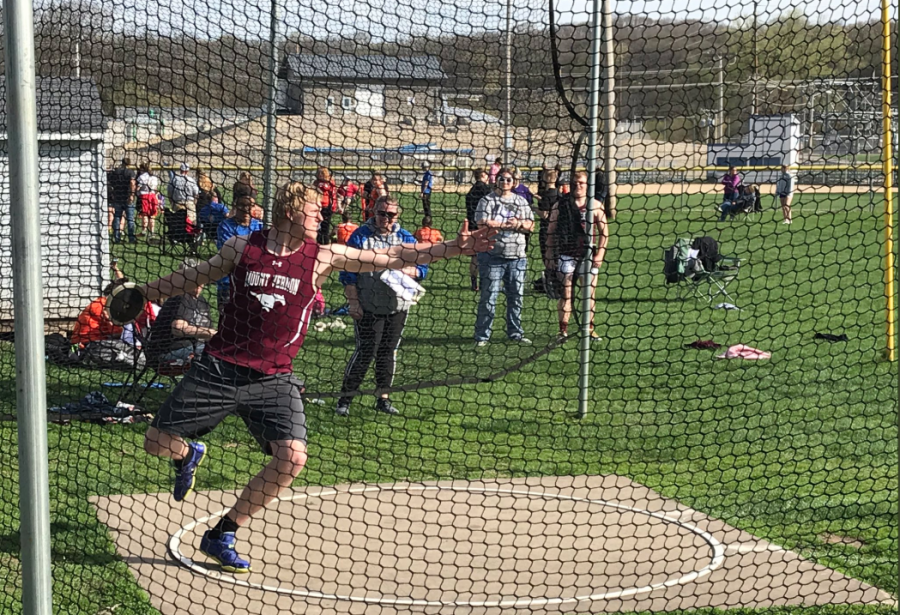 Aydan Holub-Schultz
May 6, 2019
Mount Vernon has a reputation as one of the best track and field programs in the state for 3A. The throwers at Mount Vernon are consistently winning state championships and placing in the top eight. Boys track senior discus thrower Matt Vislisel has had a very successful high school career at both the state meet and Drake Relays. During his junior season Vislisel placed second in the state meet, falling short of a state title by six inches.
A state qualifier his sophomore and junior year placing both years, Vislisel placed sixth his sophomore year as his teammate Tristan Wirfs won a state title in both discus and shot put that year. "Throwing with Tristan was a really fun experience, from witnessing two school records, to laughing and becoming closer friends at the throwing ring," said Vislisel.
Vislisel actually beat Wirfs in a meet his sophomore year at Tipton. "I felt really good but it was short lived; the next meet he beat me by thirty feet," said Vislisel. Wirfs was very supportive and happy for Vislisel, and no matter how far Wirfs threw, he would always encourage and push Vislisel to throw farther every practice and meet.
Vislisel has also competed at Drake Relays, one of the most prestigious track meets in the country, featuring the state's best high school and college track athletes. Vislisel has qualified the last two years placing eighth his junior year and second this year with a throw of 173 feet and 3 inches coming up short to Cam Jones of Cedar Rapids Kennedy who threw 178 feet and 4 inches.
Vislisel credits his hard work and training for his current success. "In junior high I never would have thought I would be competing at the level that I am now," said Vislisel. "A lot of hard work and a countless number of throws have gotten me to where I am right now; I wouldn't take any of it back or change any of it."
Vislisel competes next at Regionals on Thursday, May 9, at West Delaware High School.