What time is it? Derek Jordan participates in activities year-round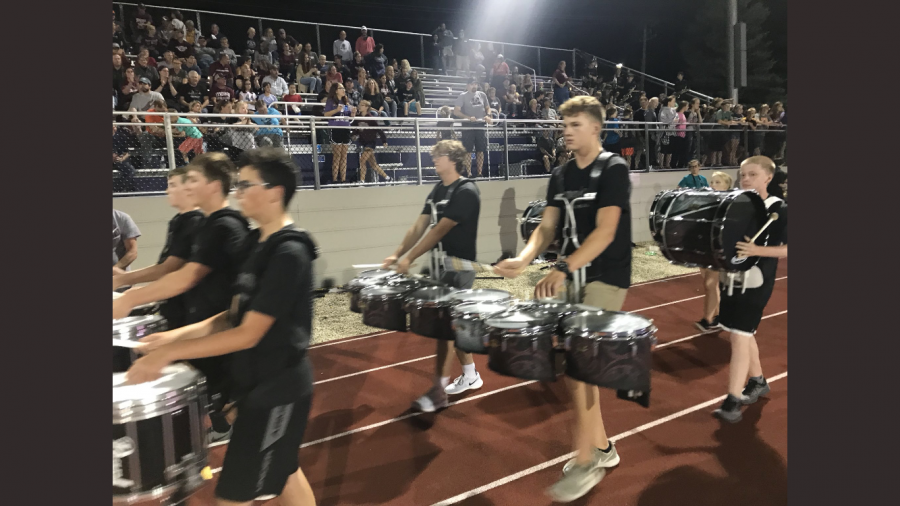 Nolan Brand
April 24, 2019
By Nolan Brand
Mount Vernon High School is very well known for having students who get involved and compete in a variety of activities. But one student has taken participation to new heights — literally. Standing 6 feet, 7 seven inches, junior Derek Jordan competes in sports and music alike.
Jordan said one of his motivations to be active is the interaction with others, "I have friends of all sorts, from the band geeks to the big time sports athletes and I enjoy getting to know all of them," Jordan said.
The school activities Jordan's involved in include concert band, concert choir, jazz band, jazz choir, marching band, spring musical, speech, science olympiad, baseball and basketball. Outside of school he is very active in his worship team, and takes private piano lessons.
Ever since he could remember, Jordan has been involved. "Both of my parents wanted me to get involved with music and sports at a young age, and I've just been trying to expand my skills and have never been able to give any of it up," Jordan said. He enjoys the opportunities both have to offer.
As an eighth grader Jordan was pretty good at playing the piano, so band director Scott Weber contacted his mom to see if he would play with the high school marching band. Jordan jumped on the offer, and hasn't looked back since. "That changed the history of our band and its success," said Weber. Jordan was the first student to march in the high school band as an eighth grader, thus he will be the first MV student to have five years of marching band experience when he graduates. Along with the piano Jordan also plays auxiliary, the drums and has started learning the guitar.
Jordan loves singing and acting as well, choir director Thad Wilkins said, "He's a solid foundation for all our groups. He's just so dependable. It doesn't matter what you ask him to do, you just know he's going to do it well." In choir, Jordan is part of the bass section. He also had one of the main roles in the spring musical "Oklahoma" this year and was forced to step out of his comfort zone a little bit with a dance scene. Jordan's been a part of the musical cast for four years and enjoys the challenge of creating a new character on stage.
Another activity Jordan appreciates is participating on the speech team. Derek competed in the category TV news this year. His six-member team made the state contest where they received straight division 1 ratings.
While speech was competing, Jordan was also a part of the Science Olympiad team. One event he enjoyed was Sounds of Music, where he learned about music theory and sound waves and was later tested. The team ended up placing second at the state competition, just one spot shy of qualifying for nationals.
Standing at 6'7" Derek is also a very valuable member of the Mount Vernon basketball team as one of the post players, and will have a big role to fill going into his senior season. He's a great guy to have on the team, and can definitely do some damage next year under the basket for the Stangs. Jordan's other sport is baseball. He says baseball is a nice way to get outside in the summer and kind of relax from other activities while hanging out with friends.
With so many activities to choose from picking a favorite was difficult for Jordan but he eventually settled on jazz choir saying "It's really a fun time with Mr. Wilkins, and probably the biggest area of growth musically for me, and it's jazz. Everyone loves jazz." In the jazz choir Jordan plays the piano, and of course sings.
Although his hectic schedule can be tough to deal with during the school year Jordan has learned to manage his time.The most difficult time for him is the end of the first semester. Between basketball, science olympiad competitions, and drumline preparation Jordan must communicate with instructors to perfect his time-management skills. "Sometimes it gets a little overwhelming, especially with finals, but I just go out and push through everything while trying my best," Jordan said. He believes that staying in all these activities is important for him, and he enjoys every minute of them!
"If you're interested in something even a little, just try it out even if you only do it a year you'll have a pretty good idea if it's something you want to continue. It makes high school and school in general very enjoyable," said Jordan.