Dedicated to the Race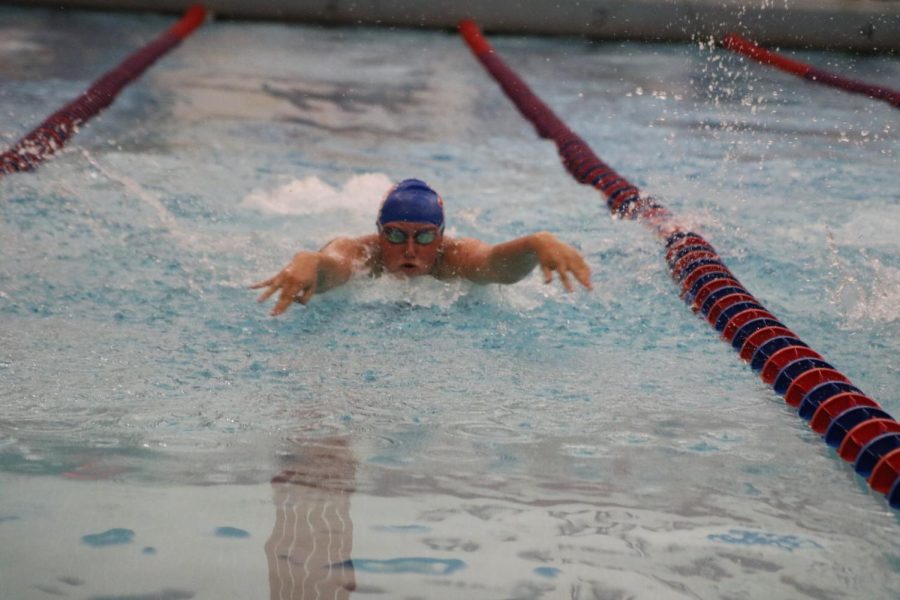 Sydney Jones Swims in National Competition
By Rachel Axtell
As she steps onto the swimming block, waiting for the starting pistol to sound, Sydney Jones takes a deep breath as she prepares to compete. Early this month Jones, a sophomore, had the opportunity to swim at the YMCA National Championship for the first time, which is not an easy task. It takes time to prepare for an event so big and it all starts with putting the time in, which Jones did.
Last fall Jones was a key part in Cedar Rapids Washington girls' swim team. Throughout the season she broke records in the 100-meter backstroke, easily qualifying for state. At the state meet, she swam all the way to the finals in her 100 back, but fell short. Although she swims in many different races, the backstroke is the event she looks forward to the most. "The 100 back is my favorite event, I've just always liked it and it's fun to compete in," Jones said.  
Before each event, Jones enjoys doing pre-event rituals with her teammates. "We do cheers before we swim and we also have a few relay rituals which are kinda weird," Jones recalls,"In the 200 medley we get water from our home pool and our coach pours the water over our heads before the race. In the 200 free relay everyone has to kiss a duck my coach has before the race. In the 400 free relay we have to take a donut and put it on our forehead and then our coach has to eat it." By doing this Jones and her teammates hope for good luck in their race. "I also listen to music before I swim and that always gets me pumped up and ready to race."
Jones' sophomore season came to an end in the fall, after state swimming, but that was just the beginning of her club season. "I swim year round. Even when I'm on my breaks I'm still in the water three times a week," Jones said.
When she is not swimming for Cedar Rapids Washington High School, she is competing for the MACR Sharks club team through the Cedar Rapids YMCA. "I love the atmosphere. Swimming is unlike any other sport, because everyone gets along so well and it's fun to be pushed by my friends to be the best I can be," Jones said.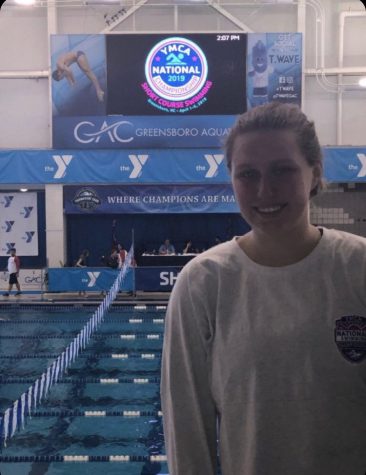 As a result of hard work and dedication, Jones qualified for Nationals while competing at Regionals with the Sharks in the 100-meter backstroke. "I have been working towards this since I was 13 and it is really rewarding to know that my hard work is paying off," Jones said. April 1-3 Jones took on Nationals in North Carolina spending long days at the meets. At Nationals, Jones placed 40 places higher than she was seeded, swimming an impressive 59.48 seconds. "It was overall a great experience. I got to meet a few Olympic swimmers and I had an amazing time," Jones said.  
Jones is a very successful swimmer, and like most athletes, she has a support team. "I'm so grateful for the people that push me to do my best," Jones said, "My coaches, Donald and Paul, and also my parents, they always believe in me, even when I don't believe in myself."
As Jones continues to swim for the rest of high school, she has goals that are set for herself in the future. "I am planning on swimming in college," Jones said, "I also hope to make it back to the finals this fall for high school state in my 100 back." She is determined to meet these goals as she continues to put in hard work till she competes again in the fall.