A Gentleman's Guide to Prepare for Prom
Kale Merrill
April 18, 2019
By Kale Merrill
The day has finally come. You gathered all the courage you could muster to go ask the girl you've been crushing on for the last two months to prom. But what's the sign going to say? Are you going to use candy or flowers? And when she says yes, what comes next? Advice from Mount Vernon senior boys will answer all of your questions, and make Prom night one to remember.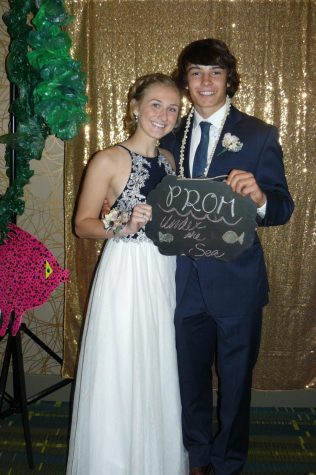 First up is the promposal. For this advice, Ryan Clark is the man. He was the first to ask a girl freshman year to homecoming and he's been riding that confidence all the way through his formal dance career. "Do the proposal as soon as you can. This ensures there will be plenty of time to find a group and a suitable tux." Now for the actual sign: "Use corny pickup lines," Clark suggests. "A funny proposal is way better than romantic and more likely to get you a date. And don't even think about flowers, candy is the way to go when asking."
Now that you've got your sign idea, where should you do the asking? "I would do it at their house at a reasonable time," Clark said, "because the special lady is more likely to agree if she isn't surrounded by other individuals." But Clark's' final most important piece of advice is, "Shoot your shot. Don't be afraid to fail when going after your dream girl. There are only so many dances in high school, so enjoy them with a special lady."
You've got your date, what's next? Renting that fire tux, so for this advice, we'll turn to Gabe Randall, the newfound hypebeast with tons of drip. For where Randall gets his tux, Baumans. Now that you know where to go, what's your budget? "$100-$150, don't go crazy expensive. But if that special tux looks right, go for it." Picking the right color for your tux is key, and matching your girl's dress is even more important. Randall has just the right color combo for you: "Go classic, black jacket and pants with white shirt, or all grey. Always go with a bow tie to finish it off." Randall's final advice for the tux is, "Don't be afraid to throw on some chains; a little ice never hurt anybody."
In order to tie your look together it requires the right shoes. Mitchell Louwagie, one of the spiffiest, most sophisticated lads in the Mount Vernon area will take on giving out this advice. "Go with the shoes that come with your tux, it ensures that your shoes will match up perfectly." Matte or gloss finish? "The Baumans guy told me matte was in so I rolled with it, and make sure you get your shoes at Baumans, shop local." Mitchell's fabulous taste aided by his loyalty to Mount Vernon community gives the perfect resolution to the daunting question of which "kicks" to rock with.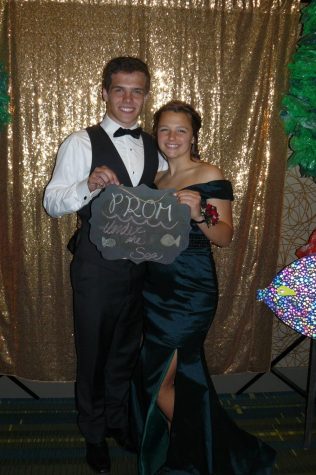 Next on the agenda for preparation is the thing no one knows how to spell or really even say, the corsage and boutonniere. Who better for this advice than Mrs. Massey's proclaimed renaissance man, Tyler Elliott. Who is even responsible for buying these things is a common question. "You buy the corsage and your date buys the boutonniere. Make sure you get the girl a wristband too." So now you know who buys what, but where do you buy from? "Blooming Acres up town." And finally don't harass your girl too much if she can't put the boutonniere on you. "Kendra never has actually succeeded in putting it on; my mom always helps put it on after pictures."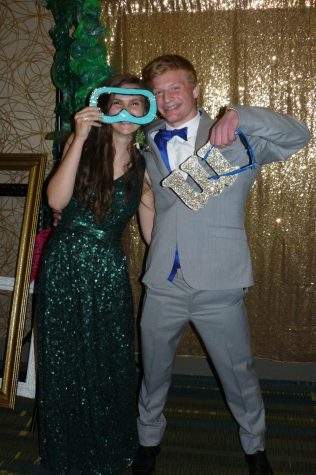 You've got all of the items you need, now it's time to plan out the night. Blake Booth, the young man with Top Chef aspirations will lead you through making reservations. "Go with a fancy place, Olive Garden or Biaggi's. But make sure they have pizza on the menu. It always gets people in the mood to dance." How early should you make reservations? "As soon as possible, restaurants are always popping around prom season." You've got the place reserved but who pays? "The girls are always supposed to pay, it's an age old prom tradition." Hate to go against an interviewee, but Booth is going to get stood up if he tries this one. Guys, always pay for the meal, be a gentleman.
You almost have everything prepared, except for your hair. How should you properly trim your mane to look your freshest? Cam Butterbaugh will take the reins on this one. "Get your haircut exactly a week before, that way it has a little time to fill back out." Where should you go for this fine cut? "Men's Room in Cedar Rapids only." Don't worry, it is an established barber shop in Cedar Rapids, not a gentleman's club.  Now you know where to, what kind of cut should you get? "Just a little trim, nothing too crazy." Cam's preferred styling for the big night is "slicked back like The Outsiders — it's a classy look." Sure it is classy, but a better choice would be anything a little less greasy.
Prom preparation and prom night can be a difficult and daunting task. But there are countless others before you that have successfully navigated the prom gauntlet. Using this guide filled with amazing advice from your elders will ensure that you and your date will have the time of your life on prom night.