Mount Vernon has Outgrown Current Wrestling Room
Hang on for a minute...we're trying to find some more stories you might like.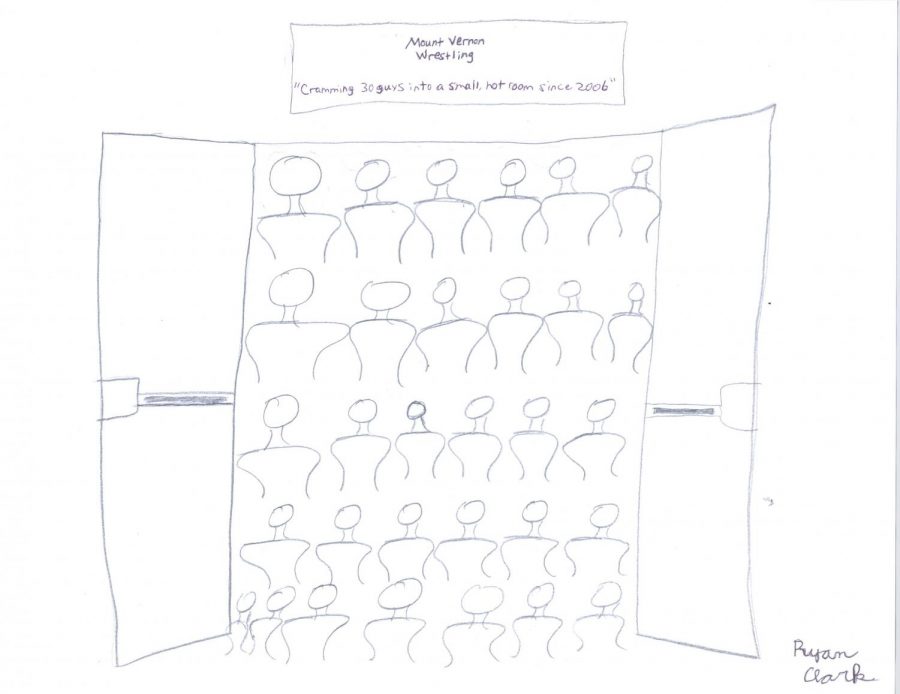 These past four years I have been fortunate enough to have the opportunity to participate in the Mount Vernon wrestling program. Mount Vernon wrestling has a long tradition of excellence on the wrestling mat. My time as a Mount Vernon wrestler was life-changing. Through the sport, I learned things about myself that have made me a better person and will help me through my everyday life. I have thoroughly enjoyed my time as an MV wrestler and have only one single complaint. The size of the current wrestling room is inadequate and needs to be improved.
Mount Vernon currently ranks towards the bottom of wrestling room sizes in the WAMAC conference. We are tied for tenth in total square feet and currently sit ninth in square feet per wrestler. Despite those numbers, we are in the top half of the conference in terms of participation every year. Each year the wrestling program has right around 30 wrestlers competing in a Mustang singlet. Add 5 to 6 coaches to that number and the result is an extremely crammed wrestling room.
A small wrestling room presents numerous issues. One issue is safety. My sophomore year I wrestled 113 pounds. On the other end of that spectrum was Tristan Wirfs, who weighed about 320 pounds before he cut down to 285. For those of you who, like myself, aren't skilled mathematicians, that is a 207-pound difference. All it would've taken was one flurry across the wrestling room for Tristan and his partner to come hurtling at my body and crushing me, ending my season. Thankfully that never happened. However, there is still a possibility of heavier weights landing on smaller weights due to the close proximity that they have to wrestle at within the wrestling room.
In addition, a small wrestling room limits what we as a team can do such as hosting joint practices. Joint practices with other teams are great opportunities to wrestle someone new and wrestle different styles. Wrestling the same three or four guys every day can get monotonous throughout a wrestling season. During my four years at Mount Vernon, we have only hosted three joint practices, with only one of those practices taking place during the regular season. That practice was my junior year with Marion. Each team had close to 30 wrestlers each, and they were all jam-packed into the compact wrestling room. Due to the lack of space, many junior varsity wrestlers had to partake in a different workout outside of the wrestling room, which is unfair to those wrestlers. The other two joint practices were held during the postseason when we and the other teams only had 5-6 wrestlers still alive and competing.
Finally, along with the square footage of the wrestling room, the ceiling also needs to be raised. The ceiling tiles in the current wrestling room are constantly being damaged by jumping rope and other activities in the wrestling room. Many of the tiles are damaged or absent. This forces the team to complete workouts in the weight room, or in the hallway outside of the wrestling room.  
An ideal wrestling room size for the Mount Vernon wrestling team would be a 50 by 100-foot room with at least a 15-foot high ceiling. This would provide the team with an adequate space that will improve the safety of the wrestlers, and allow the team to host more joint practices and workouts in the wrestling room. It will greatly help the team and would be a great addition to Mount Vernon athletics.