Mount Vernon Teacher Honored as Teacher of the Year Finalist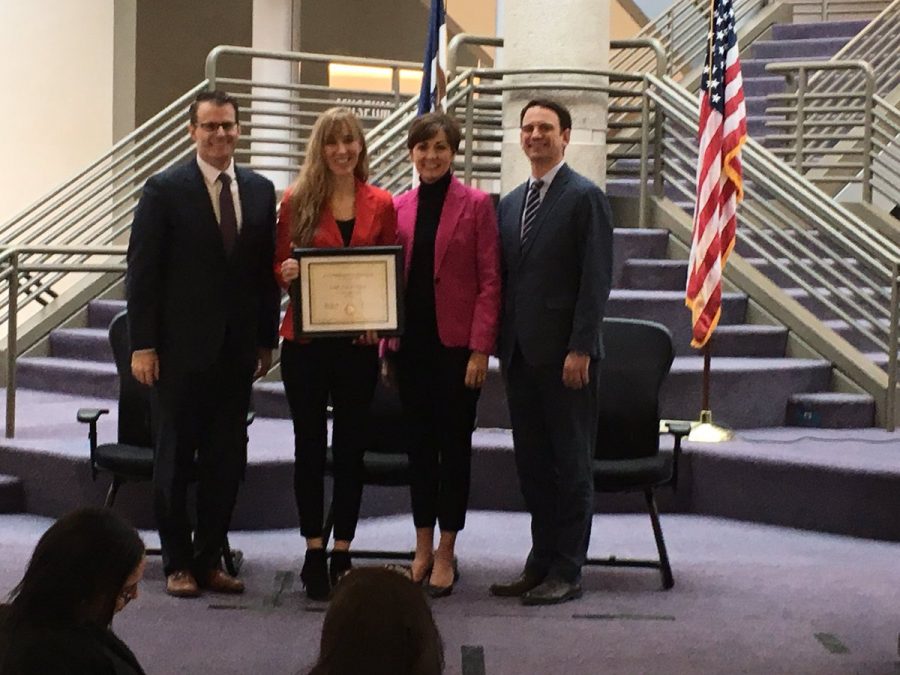 Mount Vernon High School's Leigh Ann Erickson has had the honor of becoming an Iowa Teacher of the Year finalist. On Feb. 26, Erickson spent the day in Des Moines receiving the honor along with three other Iowa teachers.
Erickson was nominated by a former Mount Vernon High School teacher, Matt Browning, for her work with students about racial discrimination. Browning acknowledged Erickson's hard work in bringing awareness to the school as a whole when she started a C.A.R.E. Conference in 2017. With the goal of presenting racial issues to a predominately white school, Erickson brought in diverse speakers to speak to the school on issues they hadn't noticed due to their privileges.
Erickson has taught herself to recognize the judgment that people can hold against each other, and with the two programs she supervises, she hopes to decrease the amount of judgment in the world. Her biggest skill she likes to pass onto her students is empathy. She wants people to see what others are going through and instead of passing judgment, recognize that we all have hardships. "If I were to tell my students one thing, it would be to embrace your brokenness and allow a recognition of your own brokenness and your own faults to build within you a compassion for others that you might see fault in," Erickson said.
This is a message Erickson learned quickly when working in Chicago. When Erickson first started working in the all black school, she felt as if she had to dominate the students in order for them to respect and obey her, but what she found was completely different. When she put herself in their shoes, and listened to their stories, she was able to form relationships better, and after she formed relationships, the teaching came naturally.
After being an English teacher for four years in Mount Vernon, Erickson was given a new position called Director of Student Support. She continues to work with students with troubles in school and continues her work with the C.A.R.E. program and Social Justice. Now that she is not teaching classes, although she misses teaching African American Literature (a class Erickson created), she can contribute more to her passion. For J-Term this year, Erickson and a group of 30 students raised over $7,000 and went on a trip to the South where they were able to visit locations and people who contributed in the Civil Rights Movement.
One of the students who went on the trip with Erickson to the South named Alanah Malone, senior at MVHS, was asked to thank Erickson for one thing. "I'd thank her for teaching compassion and understanding for other people. Everyone is flawed and that is what makes us human. Erickson has taught me that it is important to recognize that and still choose to love others."
Erickson continues to make progress with her teachings and sharing her knowledge with people all around her. She will be a keynote speaker at the National Teacher Leadership Conference in Orlando, and she will be talking to thousands of teachers about the importance of teaching compassion. Erickson plans to emphasize the need to listen to students while planting seeds. She wants teachers to continue to give students the opportunity to build relationships with people who are different from them, and teach students to grow from the relationships they have built with others.