Science Olympiad Team Places First
Korina Schoon
February 28, 2019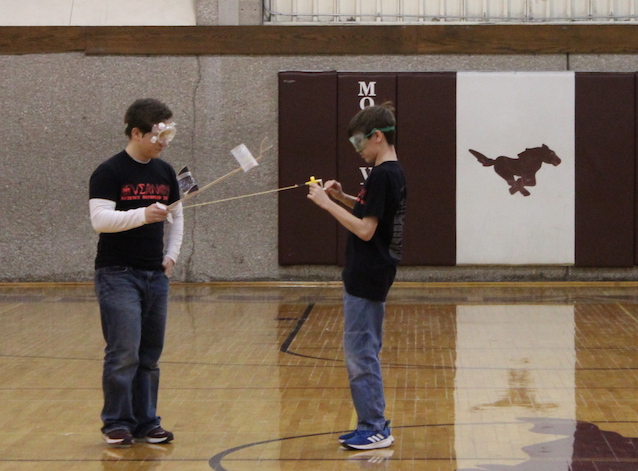 The Science Olympiad team placed first out of 12 teams in a meet held at the middle school Saturday. "Most of them put in about five hours a week for six months. I've got a great group of busy kids that commit to their events and coming to practice. It shows when they consistently score top three in the state in most events" Appley said about her team's dedication.
Science Olympiad meets on Mondays from 4 to 8. They all know what events they are going to be competing in so at practice they will go in and study their events over and over so they are prepared for their next competition.
Science Olympiad is a competition where there are 23 different events based on different areas of science, as some are building events as others are where you may take a note sheet and take a test. Another type of event is lab work where you would go into a lab and do experiments, whichever team has the most gold medals at the end of the competition is your winner.  Sophomore Sage McVay said she would recommend Science Olympiad to others because "It is a really good experience and going to the competitions is worth all the practicing." According to McVay Science Olympiad has brought her more friendships which is always a plus.
Science teacher Alaina Appley has been coaching Science Olympiad for about five years. Her favorite part about Science Olympiad is the competitive nature of it. "I was an athlete in high school, mostly just to satisfy my competitive side, and love that this exists to get kids excited about studying, building and becoming more knowledgeable than me about science," Appley said. Appley works with different kids who all have a different specialty, and she loves working with the kids and getting to know them and their families really well.